Learning from prestigious overseas universities, trend of university website
Loftwork supports business in various industries. The fact that it is particularly hot in the last few years is a project related to "university", the background is the decline of the 18-year-old population starting in 2018. And it is institutional reform accompanying the abolition of the Center Exam in 2020.
The number of candidates who are targets will decrease.
Before the big impact on the scale of the market, the method of appeal is about to change drastically from providing information for all stakeholders so far. Even if you can have contacts with students on a web site or social media, if you misrepresent your way of communicating, it can cause a decline in the image. Such a time. I would like to summarize a little about things I am thinking about daily as a producer as to what kind of appeal method effective from the university to the examination student is effective.
When making proposals of the university website, we often look at the website of overseas universities, not only in Japan. Therefore, from this trend of overseas university website, we will try to explore hints to appeal to students.
Learn from overseas super famous universities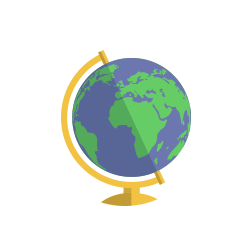 It is from the following two hypotheses that I looked at overseas university Web sites.
· In the hard competition to acquire excellent students against famous universities around the world, the expression should be refined by the contents · Students from all over the world who can not travel to the field "I want to go" In order to foster it, it is supposed to be prepared to go live
A super – well – known overseas university would rather want to acquire more than a few promising volunteers in the world from the speculation that he wishes to raise the level of a student rather than wanting to acquire many examinees anyway.
In other words, I always thought that it might be in competition to acquire the harsh student. This is not far from the challenges facing universities in Japan where the number of candidates under the age of 18 is decreasing? I thought.
Therefore, the top 20 schools from the world university ranking published by Times Higher Education were targeted this time.
1 California Institute of Technology USA
2 Oxford University UK
3 Stanford University USA
4 Cambridge University UK
5 Massachusetts Institute of Technology (MIT) USA
6 Harvard University USA
7 Princeton University USA
8 Imperial College London UK
9 Switzerland Federal Institute of Technology Zurich Switzerland
10 University of Chicago USA
11 Johns Hopkins University USA
12 Yale University USA
13 University of California Berkeley USA
14 University College London (UCL) UK
15 Columbia University USA
16 University of California Los Angeles (UCLA) USA
17 University of Pennsylvania USA
18 Cornell University USA
19 University of Toronto Canada
20 Duke University USA
Front line of trend. Rich videos and real photos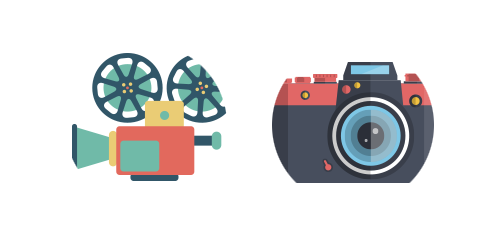 Looking at the site of 20 schools, it is solidly made with global navigation, site structure, strengths of each university. (It is natural, though) It was especially impressive in such a point that each trip can see the trend here because the approach method using the video and the photograph is very excellent at each school. We will introduce it for each content category.
University Introduction
Faculty Introduction
Oxford University uses video to introduce each faculty and takes an easy-to-understand approach rather than reading in text. Also, every video has about one minute, so it is also a point to be able to see it as crispy.
Entrance examination publicity
There are many cases using movies in the admission information page, there are cases such as letting people appear, using animation, not putting in narration too much, showing in pictures, etc. Both are contents that want to enter each university It can be seen that it is a different approach from general university introduction. Also, at the end of the video of Harvard University you can also feel that there are many students from a wide range of countries other than the United States, and accept the diverse students as well.
Background video
Like the Johns Hopkins university, there are cases where animation is used as the background of the first page of the TOP page. When you access it, playback starts automatically, and you want to watch the movie as well! I feel the enthusiasm. When searching by university name, you can think of browsing the TOP page first, but in that case suddenly entering the eyes, it is considered merit that you can promote firmly. It is also a trend of the entire website, and it has an effect to produce an advanced image. Cornell University and Stanford University are used not only as a background but also as a content.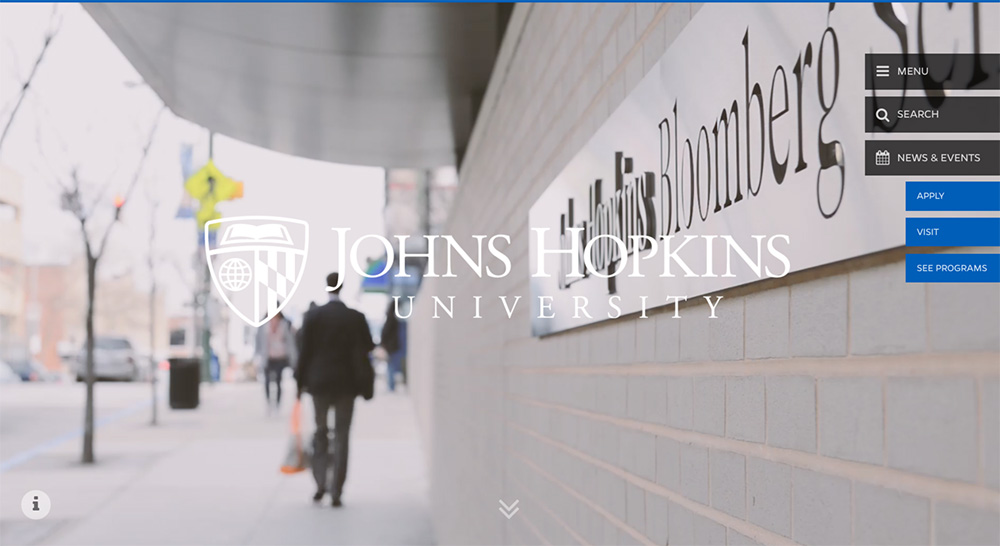 To convey the attractiveness of the university in a short time, it is the key to how much information can be provided to the test student. Compared to information centered on texts to read and understand, we can provide overwhelming information volume. Therefore, the animation contains various elements such as students, school officials, the appearance of classes and campuses, history, and so on. And, in order to intrigue the applicants and want to go to this university, every movie is firmly made, I will inadvertently see the end and want to join myself.
Whether this impression also affects the user's impression, famous overseas famous universities that have many rivals both domestically and internationally feel particular attention. Is this the point you want to reference at universities in Japan?
The transition of social media and the rise of instagram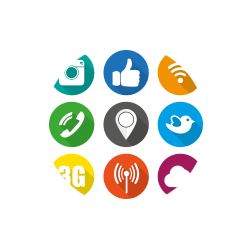 The second most visible thing after the video is the active use of social media. Many universities in Japan have started initiatives, but we can see that media selection and information dissemination in accordance with the user's behavioral characteristics are also effective overseas. And in this field, the overseas people are also various speed and impression fast.
Until now, Facebook, twitter, youtube were used as the main media, recent trends are instagram, linkedin, soundcloud, flickr, google +, etc. Along with the evolution of users' use tools, universities are also required to respond flexibly.
Among them , 16 schools operated instagram for 20 subjects this time. Even in Japan, the number of users per month is more than 8 million people per month. In addition, it seems that survey results that more than half of users are in their twenties or younger are out, so there are many users for high school students, so we recommend that they be utilized at domestic universities that have not yet operated.
Although there are parts where hurdle production is high in the above-mentioned animation production, there are also methods for appealing the attractiveness of a real university with photographs such as instagram etc. as measures that can be easily begun.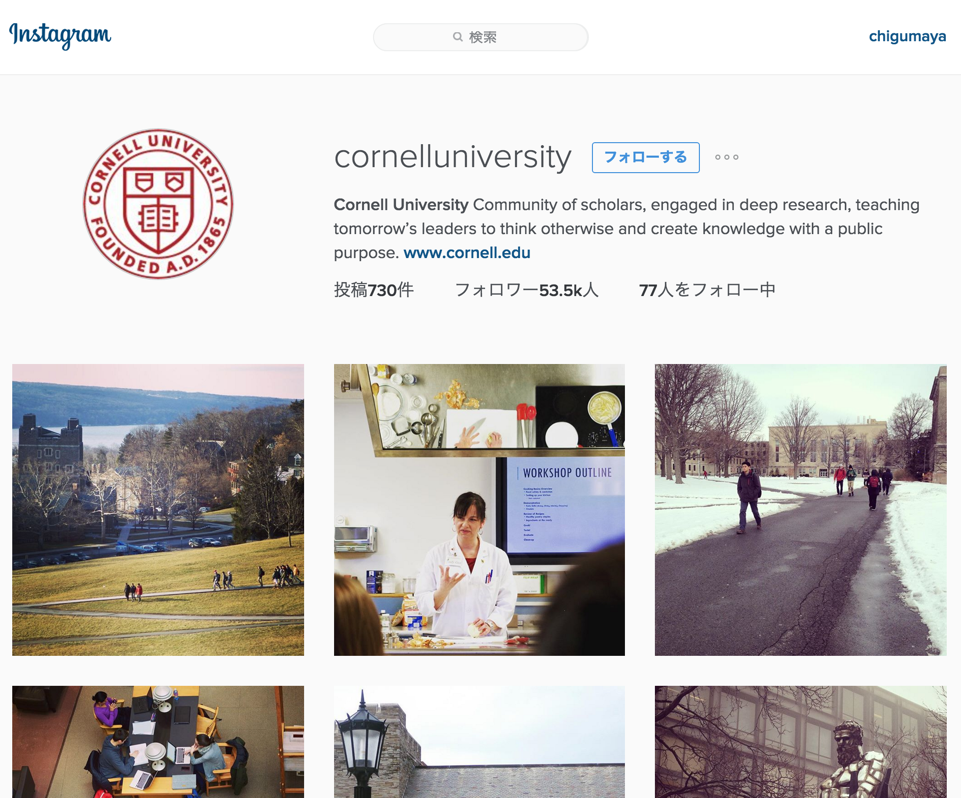 Overseas university instagram Recommended 10 tickets
Campus and facility, appearance of students, history, etc. are various, but there are many similarities with approach by animation. And, it is made with attention to the quality of each image.
Although there are images that have been produced over a long period of time using SLR cameras and photo shops, what is common is that they are sending their real . Since many images created using smartphone cameras and applications can also be seen, it is one of the merits that you can operate within campus without delegation to the outside.
Thinking about the charm of self-study properly
At the beginning, I wrote that if I misrepresented the way to communicate, I could decline the image, but even at a prestigious overseas university that everyone knows, I stick to the quality to properly convey the university's real, I am making contents.
There are no historical, no buildings that will become paintings, there are no professors who will cooperate in the interview, etc. I think that there are points to be bothered, but at such times it is time to look back on the attractiveness of self-study It may be effective.
In this issue, I examined trends and trends of overseas prestigious universities on the theme "Acquisition of students" and introduced examples of movies and instagrams by my way of thinking, but various other ways of doing Japanese universities and others I think there is something I can do.
Also, since we are supporting various new challenges including cases where we have issues such as raising the university's name recognition in the first place, please do not hesitate to consult us.