Loftwork Project Guidance
Factorization of project design practiced by Loftwork
Many companies are working on the creation of new value, not just the creation of experiential value, but also dynamic approaches to public issues and such; the values that are sought after are becoming increasingly diversified. Under these circumstances, how should companies go about engaging with "value that is now unseen"? Looking at the examples of BROTHER INDUSTRIES, LTD. and OKAMURA CORPORATION. and their various approaches to creating new value through their "digital embroidery machine" and "work method reform," we will introduce project design points and ways of finding "value that is yet unseen."
In a "time when things don't sell," a lot of importance is put on the conversion of "things" (functional value) into "events" (experiential value). Many companies are working on the creation of new value, not just the creation of experiential value, but also dynamic approaches to public issues and such; the values that are sought after are becoming increasingly diversified. Under these circumstances, how should companies go about engaging with "value that is now unseen"?
Looking at the examples of BROTHER INDUSTRIES, LTD. and OKAMURA CORPORATION(OKAMURA) and their various approaches to creating new value through their "digital embroidery machine" and "work method reform," we will introduce project design points and ways of finding "value yet unseen."
From "selling sewing machines" to "creating creators": BROTHER INDUSTRIES, LTD.'s Efforts
The "digital embroidery sewing machine" is a product for professionals able to perform various kinds of complex embroidery from digital data at high speed. Brother Industries' "PR1000e" is a revolutionary machine that can embroider 10 different kinds of thread all at once. Based on digital data such as JPEG and AI files, it is possible to embroider as smoothly as if one were drawing with thread.

Through the spread of digital embroidery sewing machines, new sewing expressions and value is born, work and workers are created, and there will be growth. In order to realize such a future, contact points were organized to allow people who like to "draw" or those who draw professionally to become familiar with digital embroidery machines and begin to create with them. 5 initiatives were drawn up and then implemented.
The spark of the initiative, "creating the creators of the future"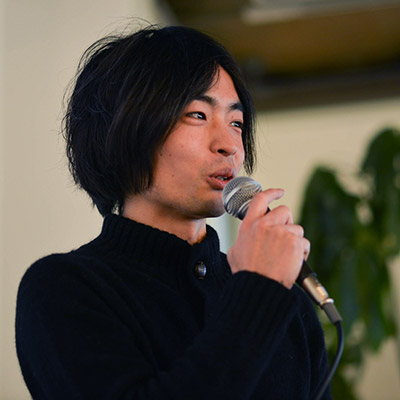 The creation of "value yet unseen" with the "PR1000e" digital embroidery sewing machine began with a proposal by BROTHER INDUSTRIES, LTD.: "we want to install this sewing machine at FabCafe." FabCafe is a "digital creation cafe," a cafe space equipped with creative machines like laser cutters and 3D printers. Iwaoka, who led this project, FabCafe LLP / Fab Director, looks back on it as follows:
"The proposal of BROTHER INDUSTRIES, LTD. was to bring creators with a high level of interest together at FabCafe, have them use the "PR1000e", and in that way spread recognition. However, at FabCafe, beginning with laser cutters there are several machines in operation, and introducing one more does little more than give creators one more choice. I was concerned that the presentation of each machine might actually weaken as a result. So I decided to take another look at BROTHER INDUSTRIES, LTD. / FabCafe's expectations and reorganize. "
Updating the target userbase through proactive connection with creators
Mr. Iwaoka continues:"This embroidery machine was for business use, so there was an initial gap from the creator-types gathering at FabCafe. In order to approach the creators at FabCafe, we needed to plan a few steps that would allow creators to gradually get used to the embroidery machine, and then begin to spontaneously create in a way that was possible because of the fact that it is an embroidery machine.
So, what we suggested was to connect proactively with a few creators. Through their channels and actions (workshops, announcements, sales), we were expecting to reach the creative sector, and not only that but also I was thinking this might serve to renew our product user base, in other words to 'make future product users.'
In this way, they went about creating the "creators of the future," and the collaboration project "MiY" was begun. MiY is short for "Make it Yourself." We made use of FabCafe and the creator community "loftwork.com" to launch a craftsmanship community.
Regarding the reason the project concept was set as "creating the creators of the future," Mr. Iwaoka relates, "the customer base for sewing machines is an older age group, and visitors to crafts events such as quilt exhibitions are mainly an age group over 60 years old, and that was a challenge." So, to introduce digital embroidery machines to people who love or make their living "drawing," we organized some touch points leading up to actual crafting, and implemented these ideas into the following 5 policy initiatives.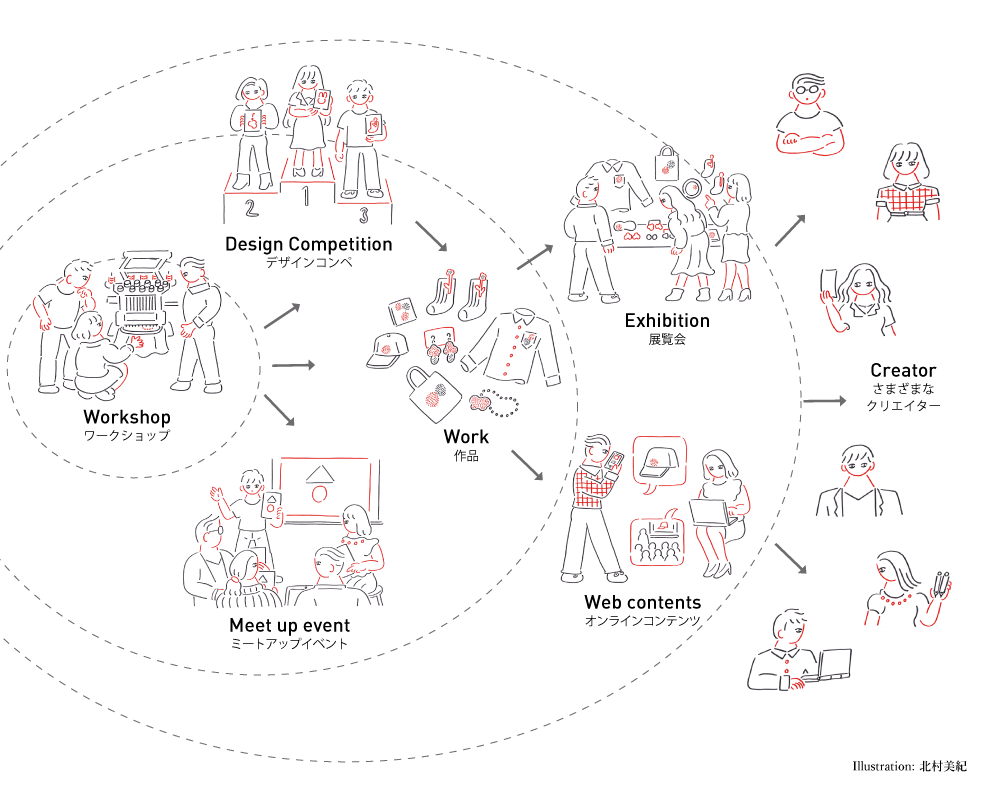 New uses andideas for digital embroidery machines to forms
The first initiative was "lab establishment" to allow for "new application development" for digital embroidery machines. Together with 5 creative minds full of enthusiasm for drawing and creating, the "MiY Lab" was established. Members actually used the "PR1000e", and with their unique visions as creators, visualized new applications and ideas. "At the beginning, we embroidered illustrations, and with the experience gained through that, we started connecting through meet-up events to show the relevance with our creative activities," said Iwaoka.
Matching "creative people" with "machines that can create"
The second initiative is a meet-up event called "MiY Meet up". There we showcase the work created at "MiY Lab", and arouse the creative urges of people who are interested in making things by letting them see the work being made, and the "PR1000e", etc. We archived the designs featured at the event to allow recognition to spread to those who didn't attend, as well.
And, the third initiative is an open recruitment through "loftwork.com" of designs (works) made using digital embroidery machines. "loftwork.com" is a portfolio site for creators with 25,0000 registered creators nationwide. About 80 works were submitted to the open recruitment from all over the country, the results were judged, and 10 works were selected as winners.
「Awards, exhibitions of winning works, and trial workshops geared towards "viewers."
The fourth initiative is to arouse the feeling, "I want to try making these, too" in people who visit FabCafe, by producing works selected in the open recruitment with the "PR1000e", and holding exhibitions and sales at the cafe.
And the fifth initiative is holding workshops to allow people to experience the "fun of creating" together with creators during the exhibition period. These workshops were held so that even people experiencing crafts for the first time could join.
Regarding the aim of these initiatives, Iwaoka explains: "Creators have fans. We thought that by making creators the hub, ideas would spread to their fans, and as the wheel turned, the community of 'future creators' would grow."
As for the design of the project, we actually touched the product, and thoroughly thought through "what is this machine made for? who is it made for?" From the matters made clear in this way, ideas would take shape, and people on the outside could get involved.
Iwaoka says: "There are cases where through outside participation you notice value that the makers themselves didn't realize. This is the merit of co-creation. By combining FabCafe and loftwork.com, real and online communities, spontaneous collaboration happened, with open involvement in the best possible way."
Loftwork.com is a community of creators based on a co-creation model. Graphic designers, illustrators, architects, product designers, craft writers, web designers, photographers, artists, etc. ... people from all over the world who are engaged in creative activities in various genres gather, co-creation projects of various genres are born: package design, projects using Fab machines, travel design, special product design, etc.

FabCafe is a "digital creation cafe" where creative ideas gather and take shape. It offers free internet and power access, crafting machines that use digital data such as laser cutters and 3D printers, and is a space and community that can also be used as a creative co-work space. While expanding globally to places like Taipei, Barcelona, and Bangkok, various collaborations with companies have also come about.

The efforts of this project are explained in more detail here.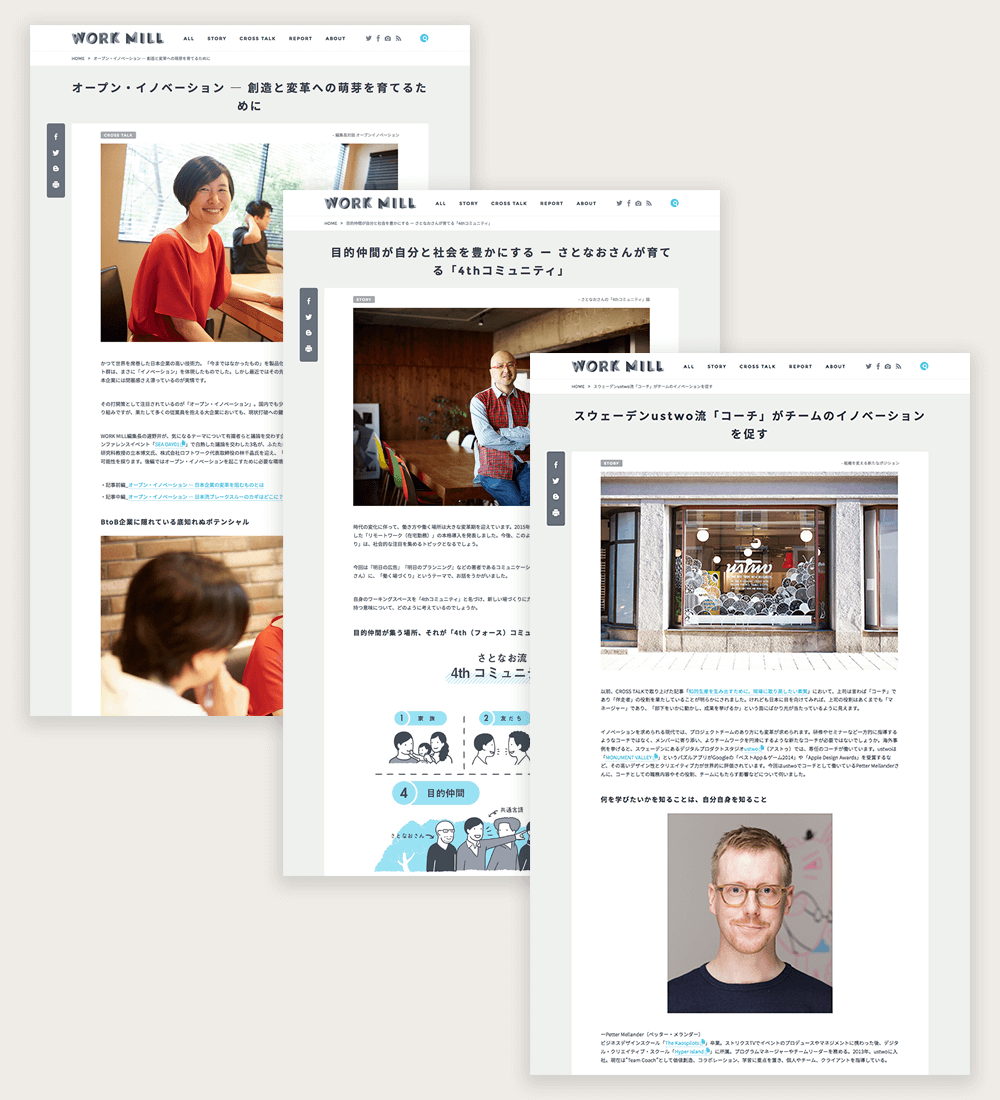 The second company created a vision of "becoming a company that creates a new Japanese office culture," and thinking about how the way people work will continue to change. With this in mind, Okamura Manufacturing Co., Ltd. launched "WORK MILL". Although the company is a top manufacturer with a reputation for office furniture that makes the most of its technical capabilities, at the same time, the company sought to produce not only "things," but also "events," that is to say working "place" design that seeks to revolutionize the way people work. With this in mind, a project was begun within the company in 2015.
However, they were dealing with a problem: we aren't able to put our ideas into words, or visualize well." Initial consultation centered around a goal: "we want to build a web media platform to disseminate the new challenges we are facing to the world."
So, at Loftwork, a project was designed according to the following process.
(1)Discover: Exploring value discovery
(2)Assemble: Constructing the skeleton
(3)Test: Embodiment and value verification
Discover: First, discover the insight to consider "what does it mean to work?"
First of all, we started the process by researching the background of the project, and thoroughly considered the question, "what does it mean to work?" What we began to see was that even though the internet was developing and technologies were evolving, people were still heading to the office at the same time every morning and working the same hours and such. There was an awareness of the issue that the way people work could change much more, and that its good to have diversity.
OKAMURA has an organization called an "office laboratory," which has published books such as "Workplaces Connect People" and "A More Enjoyable Office," and is endowed with a lot of knowledge about working people and their environment.
From these issues and unique values, they draw new insights they call "continuing to look at the workplace."
In addition, OKAMURA has been creating collaborative workspaces, such as the future work studio established in their office in 2012 called 「Sew」From this, they had an insight they call "the power of place" for the exchange and intermingling of different opinions on various professions and ways of working.
Also, the project gathered a membership of diverse skills and backbones, including work style consultants, architectural experts, human resource development specialists, space designers, and so on. This "unique talent" numbers among their insights.
In order to expand this three-dimensionally, they proposed a project theme based on initial discussion: "Activities with continuity on the web and in real locations." The project was then initiated in June 2015.
Assemble: "mill," a project keyword with the dual meanings "see" and "mill new value."
In order to construct the framework of a concrete project, they carried out the following processes and formulated the project concept and VI determination.
(1)Vision co-ownership
(2)A workshop to convey ideas of value and message to users
(3)Discussion of brand concept definition from work 1
(4)A workshop to dissemble concept ideas using image boards
(5)Discussion to consider and create visual design plans from keywords drawn from work 2
(6)Concept ・ VI Determination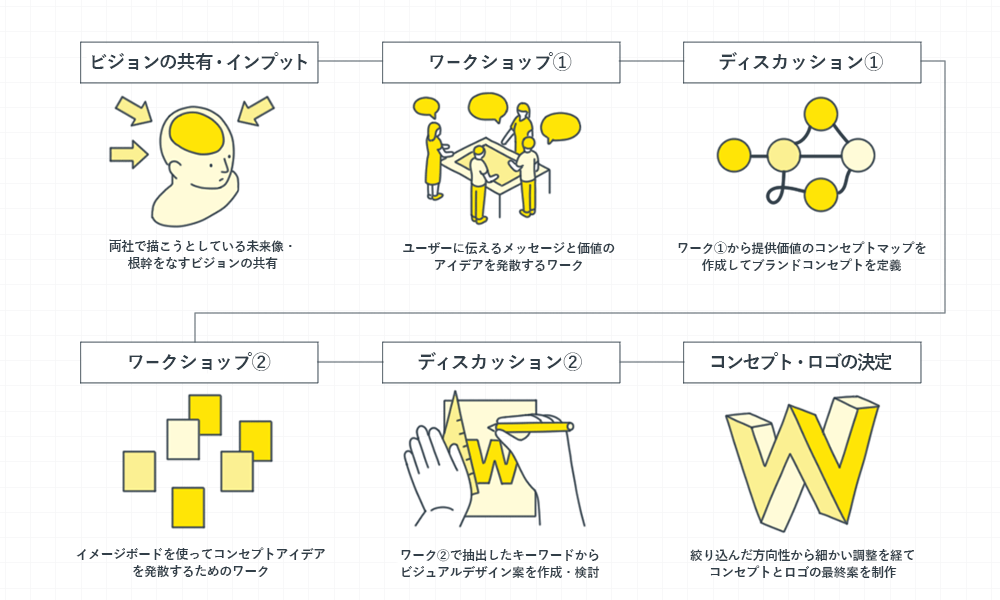 The keyword drawn from the workshop is "mill". This has two meanings: "to watch" (in Japanese, "miru"), as in watching over the workplace, and "to mill", wherein new value is extracted or "milled." With these two points in mind, the image theme "diverse viewpoints" was included in the logo design.
From there, relating to a concrete web media editing policy and target, the "assembly" phase continued.
Test: Develop three-dimensional initiatives centered on the web magazine "WORK MILL."
In line with these processes is the web magazine「WORK MILL」made under the editorial policy "reference books for new workers." A special characteristic of its articles is that following the "reference book" editorial poicy, it features an abundance of illustrations with easy to understand explanations. One year and three months on from its December 2015 launch, 54 volumes have been produced and released.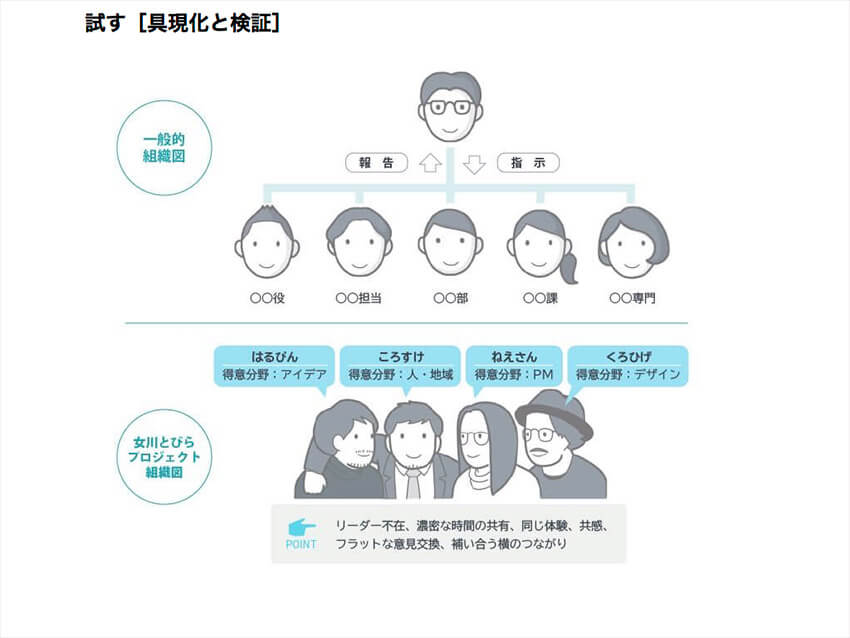 "Continuing to Look at The Workplace Office Laboratory," "The Power of Place," "Unique Talent"; continuing to transmit this original value creation information is connected to an increase in publications and inquiries about work style and work space.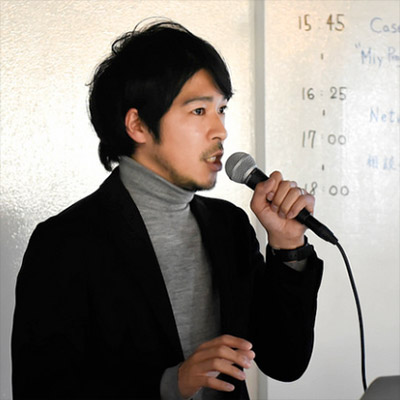 Yanagawa is a Producer of Loftwork Inc. who took charge of OKAMURA's project. He relates:"The values sought after by companies have diversified, as have the discussions happening at loft work, with increasing demand for new goods and services created by unprecedented processes."
In cases where something is difficult to answer alone, through the processes of "discover," "assemble," and "test," outside parties can get involved, the importance of which they will continue to increase.
"Disover" can be further subdivided into 4 elements. An initial "query" into what the project is for in the first place; a "quest" for further insight by listening to experts and researching the company's history by studying the literature and such; a "value hypothesis" about the impact and necessity one hopes to create; and the "visualization" of logos, names, and other such visual elements along with ideas about what kinds of things one wants to do.
"Assemble" can also be subdivided into 4 parts. The "conception" of ideas to realize one's vision; putting feasibility aside for a moment to allow thoughts to run free in "brainstorming"; focusing in on what one wants to do through "integration"; and finally, the "design" which includes the who, what, when, and how of the project.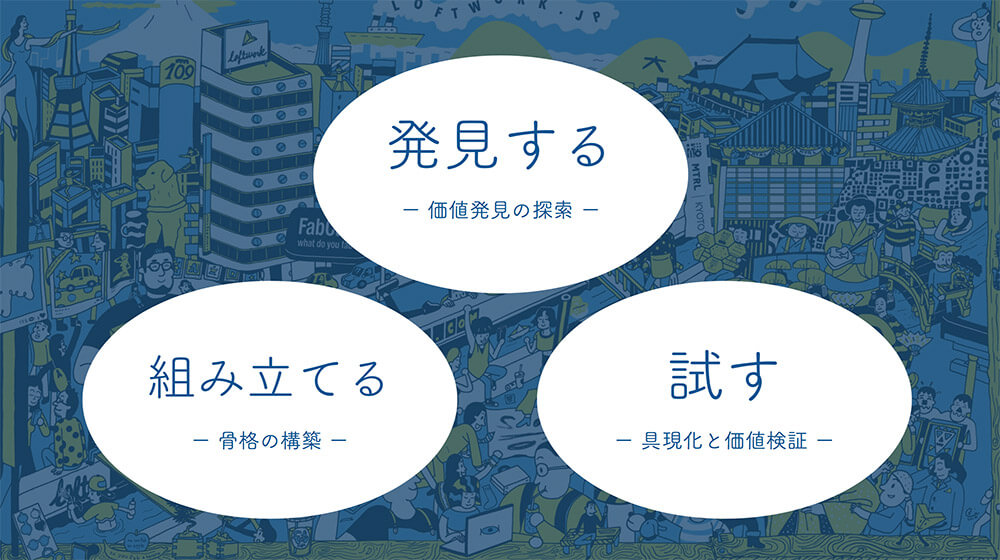 Now, as for the "test," it can be broken down into two parts. First, "development and realization," where moving parts are quickly given shape, even if one starts with small things; and "verification," where feedback is received through prototype testing and makes improvements.
By repeating these 3 steps over and over again, new value is refined.
Bringing "people" and "materials and technology" together and creating gathering places that lead to "new value discovery."
Loftwork Inc. continues activities to find, together with clients, value that may already be present but undefined, by rethinking and questioning, and sometimes using different metrics to make measurements.
Through the involvement of places that function as a fusion of cafe and manufacturing spaces such as "FabCafe", materials-themed working spaces like "MTRL", and creative networks in the vein of "loftwork.com" and knowledge-sharing "OpenCU", "places" are created that bring "people" and "materials and technology" together, and allow the continued support of the discovery of new value.