From "Shibuya Hack Project"
Interview with the project members on the site of "Shibuya Hack Project" in Shibuya which is currently in progress
Nice to meet you, Moe Fujii. I usually work mainly in PR and event management in the building field. As a freelance, I am going out to help various organizations, but as I was involved in the operation of PARADISE AIR (* 1) and the launch of the former Kanto Local Finance Bureau Utilization Project (* 2), "Tactical / Urbanism I came across the word 'something.
By continuing to make small temporary actions in the public space, we will make the city we desire. Tactical · Urbanism (tactical urban planning) is an approach that is totally different from the administration-led · top-down type urban plan of the past that it is going to rewrite the whole town of the town with the accumulation of small ideas of citizens is. Actually, did you know that such activities are starting in Shibuya now?
This time, Yukiko Ishikawa, Yoshiko Ishikawa and Eri Iwasawa are currently progressing on Shibuya's "city planning" SHIBUYA HACK PROJECT and a talk event held on December 2 " Create a new option in the city – HACK OUR CITY "I heard the story of.
* 1 PARADISE AIR : Artist in Residence utilizing the former hotel's building in Matsudo station
* 2 Old ZAIM : New Yokohama creation base with sports × creative theme, full disclosure in 2017
Hack in the city of Shibuya! What? ─ SHIBUYA HACK PROJECT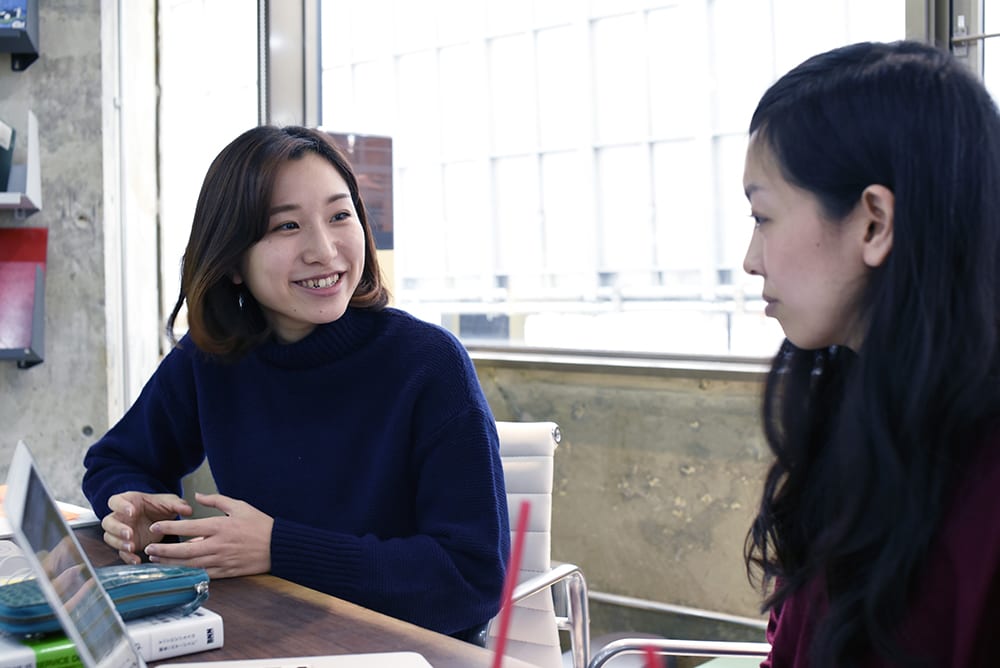 ─ "Creating new options in cities" is a very good word. In the first place, what kind of project is SHIBUYA HACK PROJECT which Mr. Iwasawa and Ishikawa work on?
Iwasawa (Loftwork) : It started from about a year ago, but actually it was not a concrete project at first. I would like to start working on the soft side that took in view of the people of the town and the idea of ​​creators that I could not reach in the development project on the hardware side, but I do not have any know-how, how can I proceed? From the situation that it started, I started with Tokyu Railway's Shibuya Town Planning Committee.
As I talked with the project members, I found out that Shibuya 's town is very good at developing on the hardware side, and has a planning ability to gather tenants and create activities such as large – scale events on the software side. However, when building a culture together, it was necessary to have a different approach from the conventional way.
Ishikawa (Loftwork) : In understanding the tasks of Shibuya, three major themes are " bottom up ", " how to draw personal power, " " making choices in the town ". When sharing expressions in Shibuya as a material creates a new culture, I started taking small ideas that were unlikely from the idea of ​​creating a new culture, starting to enter the site and trying the experiments repeatedly It was. We call this activity "hack".
Town as an expression material, Shibuya
The practice of SHIBUYA HACK PROJECT has already begun. At "Street Furniture" held in conjunction with Shibuya Music Festival 2016, six creators participated and made proposals for new furniture to Dogenzaka which became a pedestrian heaven.
On the theme of "winning the point of view of the town" with the theme of slippers and sketchbooks, the first day of doing fieldwork to put on the situation of the town. The second day when we proceeded with prototyping by inflating the image by observing human behavior and the town. After a week of brush-up period, on the final day, putting street furniture actually made on the road, arranging what is already on the road and trying to make it a street furniture, the reaction of the visitors of the music festival It was an experiment to find out directly.
ISHIKAWA: As "a new city-making program that starts with citizens, like Shibuya," Loftwork and Tokyu Electric Railways operated the people of local shopping districts, creators, schools, and administration.
By placing street furniture on the road which usually goes by, it was aimed at giving meaning of completely different activities and visualizing the road = public space as the property of the town. From us we explained the stance of SHIBUYA HACK PROJECT roughly and asked, "I would like to make such a meaning in this place" "I want to introduce such an image in the town". Then, we chewed to 6 people 6, and an idea was born.
IWASUWA: Because there was a limited area at Dogenzaka and the Shibuya music festival this time, how to create experience and new awareness that visitors have never had before? There was direction that it was. A creator started from "I want to change the viewpoint of Shibuya", try to make a bench that mirrors the sky of Shibuya with a mirror, another person gets to a color cone and a sign on the road Try experimenting by discovering how it took off and using that affordance "What will become a chair?" As a demonstration experiment not narrowing down the goal image, everyone was working with a completely different idea.
─ Shibuya is always overflowing with people and the economic activity is like a city in the fifth finger of Japan. From my point of residence in Yokohama, there was a part I thought would be urgent problems that must be solved in town planning. It is convincing that we capture the town as representation material, not problem solving.
ISHIKAWA: The policy of SHIBUYA HACK PROJECT is right. Shibuya 's town itself is the target of expression, based on creative desires that are not problem solving. On the other hand, as a difficult subject to see, there is a feeling that as the development around Shibuya has progressed, it has become impossible to cope with the changes of society in the past 10 years in the conventional way. If there is a place where people can gather, there is a sense that nature and activities are born, the sense that culture is born is finished, and we are exploring ways to actively create those activities as business operators.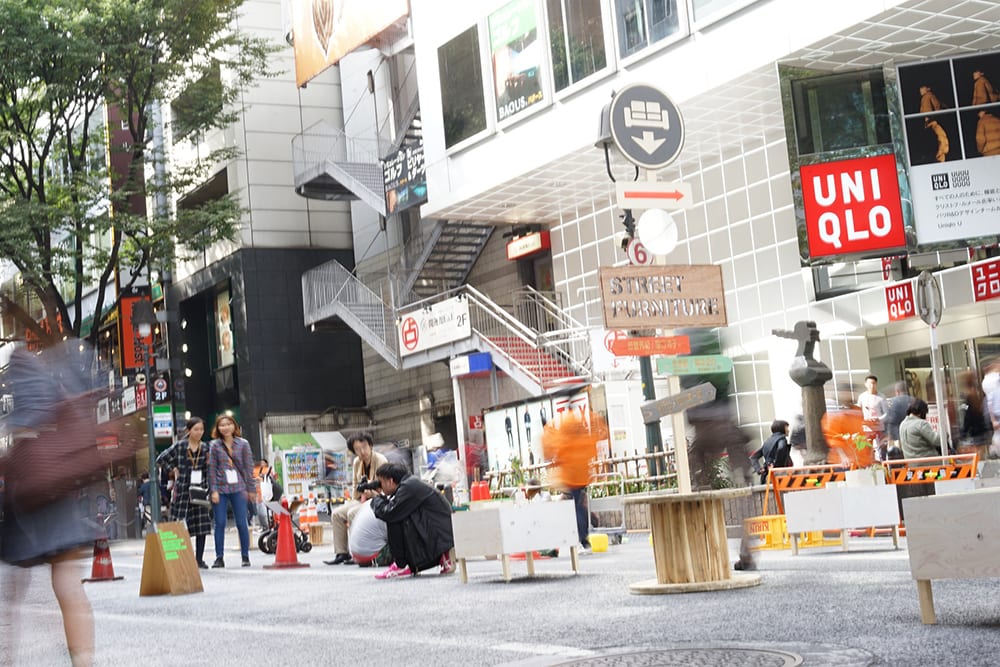 Furniture suddenly appeared on the street in Shibuya!? Street Furniture @ Shibuya Music Festival 2016 ~ How to enjoy "Shibuya's town development" as myself
Culture no longer occurs naturally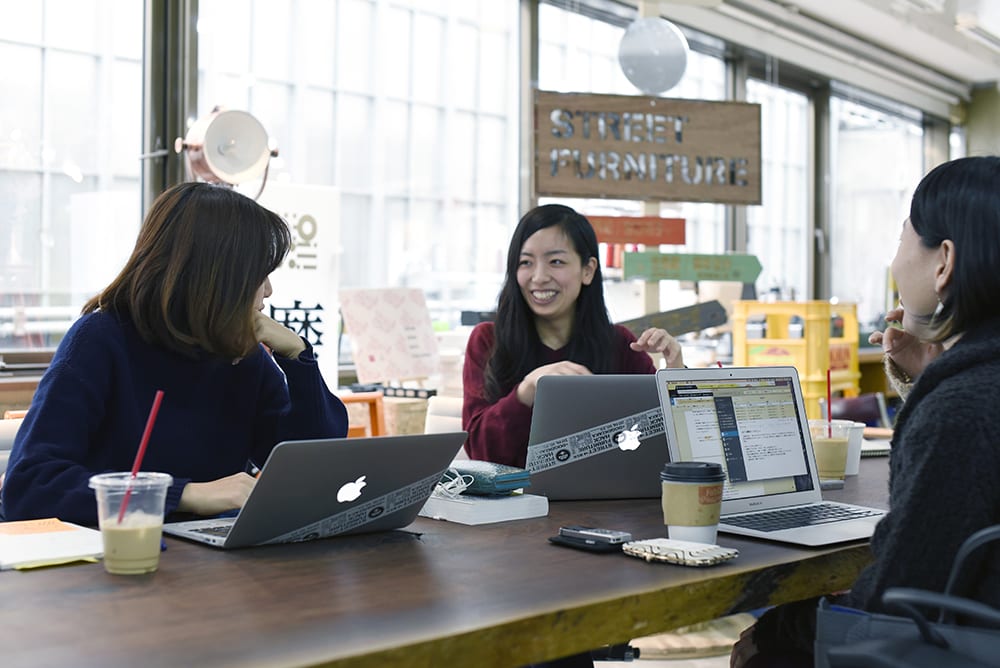 IWASUWA: In Shibuya, although there is a weak part in the aspect of culture even though it is low vacancy rate, I think that there are things that can be felt in skin sensation though the area where youngster does not exist is popular and has not been put on numbers yet. Culture is not naturally occurring but nurtured. With that as the starting point, we shared the problem consciousness in the project that it is not always the best way to build a new building.
─ I think that I use it consciously, but I am fascinated with the word "city" making. Normally when these story goes on, the word "town planning" is used.
Ishikawa: I'd like to focus on the problems of the city where it is difficult to create a new culture, taking a little distance from the image of the region associated with "town development" and the image of depopulation. The charm of Shibuya unique to the feeling of chaotic accumulation of people's heat and information. We call it "city development" to express urban tolerance and "hack" efforts that are not problem-solving type.
─ People in Shibuya do not feel the neighborhood. There is an impression that people are tied to the activity with the feeling that everyone who works in / who is doing more than anyone living there. There seems to be such a reason that 'city' comes better.
Iwasawa: I always thought that Shibuya was a city with high stage performance. There are people who are stretching antennas in new expressions, I can see what I made, I feel that it is a place where I can influence each other. I think that it is not possible to do expression activities like casting for people unless there is stage performance.
ISHIKAWA: If I take culture away from the city called Shibuya, I guess it will be a very ordinary city. I hope to be able to superimpose expressions and cultures born emergently as values ​​of cities.
IWASUWA: I have had a lot of opportunities to participate in the town people, starting SHIBUYA HACK PROJECT. Rather than focusing on only one thing, I would like to expand my horizons to the lives and work of the people involved, why do not you come out in the town and experience it together, what is worthy for the future, deeply I think that I can think and gain the driving force. It is still in the hypothetical state, but because it is a participatory organization like SHIBUYA HACK PROJECT, I am able to experiment in the town with a flat relationship.
I hope the recognition that "Shibuya is a super creative city" in the world rather than a town that worked well in Japan. People who want to express from all over the world, want to make people want to challenge! It is a big goal of SHIBUYA HACK PROJECT.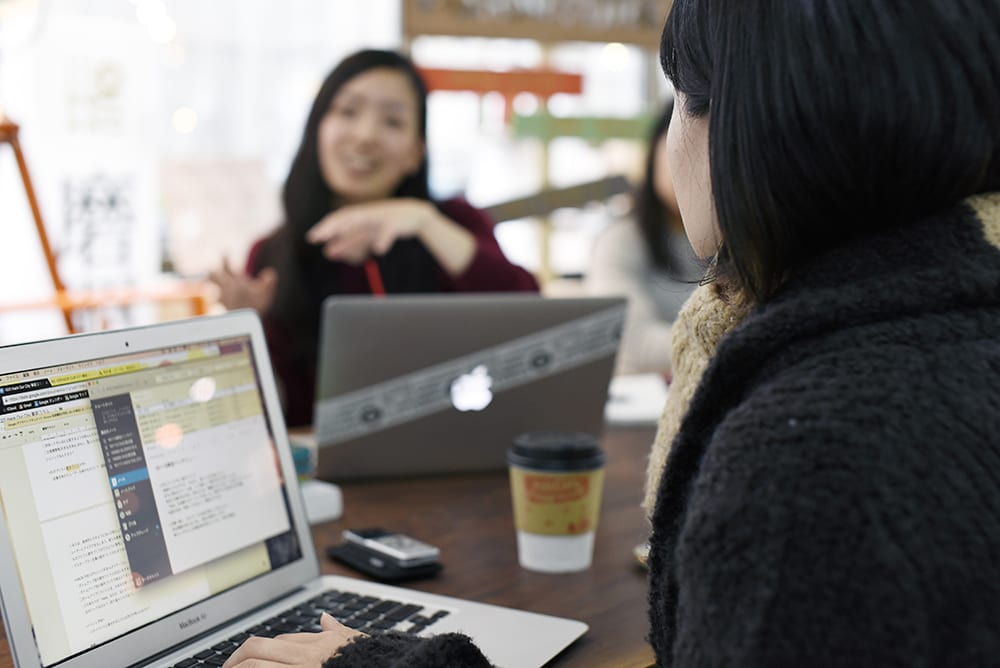 From this point on, we will participate in Loftwork's Hiroyuki Tanahashi and Shinya Watabe, and we will draw on the intersection of manufacturing and urban development.
This project that the real feeling of the loftwork team that the subject of manufacturing is changing from enterprise entity to user entity has become a major driving force. Soil that supports the action is indispensable to the blueprint that a stack of small actions creates a new culture and draws the outline of Shibuya from now on.
Future values ​​that leak into the town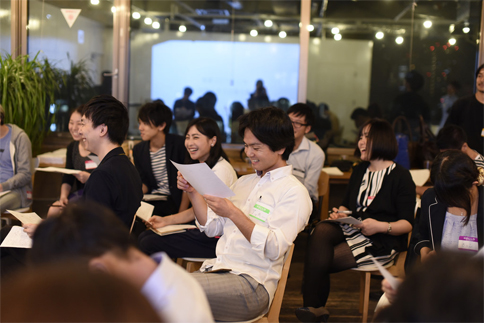 – Thinking about cities from the viewpoint of manufacturing is very attractive, but I also feel there is a big scale change. Did you notice anything crossing the gap?
IWASUWA: There are too many pieces of information leaked out to the town, for example, 109 trends can not be read even if you look at all 109 floors. So, what is going on in the town, there is a roadside shop with attractive customer attraction in areas slightly off the center. It seems like this is a sign of changes in people's values ​​and sought-after things.
ISHIKAWA: At SHIBUYA HACK PROJECT, we are also doing a project called 360 ° Radio to interview workers at Hack who is already active in Shibuya. In the small coffee shop ABOUT LIFE COFFEE BREWERS I covered in the past, while it is connected to the coffee community around the world, it is a shop near the corner of the environment, so I'm also very close with my grandmother of a neighbor's tobacco shop .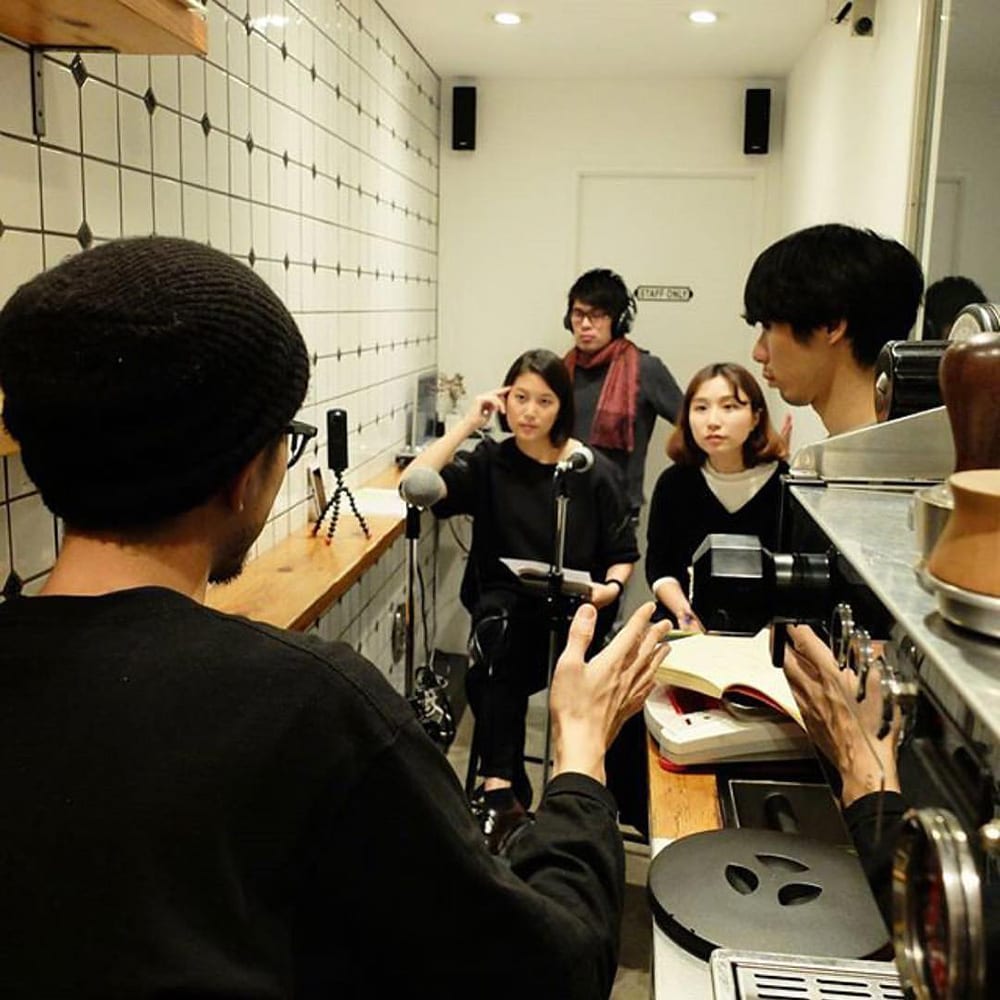 So if you are familiar with the situation in the neighborhood and if you collaborate and think about the necessary services in Shibuya now, a new viewpoint may be born, a new marketing method tied to people and activities not like questionnaires Maybe it will become, or. It might seem like a messy niche, and you may easily be able to jump over Japan.
─ It 's funny, it' s all over. It is irritating, but it seems that it seems to find an amazing vein!
Iwasawa: When you walk in the city with a marketing perspective, you will see that way, then it seems likely that you will see more when you field work with people on the side of SHIBUYA HACK PROJECT. With that in mind, I tried walking around the town with the people of Tokyu, creators and shopping malls in the fieldwork of Street Furniture (see the first part). When I walked with a person with a different viewpoint, each had a discovery that "such places are interesting?"
The more diverse the viewpoint is, the more interesting it is to make things together, when you want to experiment with values ​​when you hypothesize and shape ideas, you will need a lot of perspectives at the time of hypothesis. Even in finding things that are likely to be incorporated as a project, it is necessary to create a lot of prototypes as soon as possible and see the reaction.
Ishikawa: There are many ways to make things quickly, and everyone is getting started. Rather than looking at responses by placing things that took many years to develop at the exhibition hall, we would like to put in a situation where we will gradually introduce prototypes into the town.
Iwasawa: It is important to have a place of manufacturing "a town research institute" in the idea of ​​tactical urbanism that we will experiment with short-term experiments that take decades if it is an urban planning attitude I am wondering what it is.
It is an important process that leads to both manufacturing and urban development, involving a lot of parties and obtaining diverse perspectives. I can tell you the high level of affinity for the current situation of manufacturing making individuals able to make ideas quickly and making urban development progressing with small trials repeatedly. On the other hand, the SHIBUYA HACK PROJECT taking the opposite approach to the master plan led urban plan is also a bottom-up type dilemma that it is hard to draw a big vision.
Form of a new plan to design the degree of freedom of the town
Watanabe: I think that client work usually tends to require milestones and detailed business plans. I think that it is difficult to build a detailed business plan with a bottom-up experiment like SHIBUYA HACK PROJECT, did that dilemma happen?
ISHIKAWA: That, I am suffering right now! However, I think that it is very important to make a vision and concept, so this is the phase of trying for the moment. I am planning to set the goal of the future with the result.
Watanabe: How about Mr. Tanahashi about the dilemma that is only because it is a bottom-up project?
Tanahashi: I feel that the way of planning is changing. I am helping creating space at work, but I often ask for freedom like a room where I can use it as an office, can make it into an event space, occasionally can cook. There is an increasing number of plans that allow users to customize with a certain amount of effort rather than a single function. Although it is still a small market, it is a way to fill up the skimmer space that is caused by one product's function. You call it "hack"?
Until now, it was requested to plan and propose the completed model perfectly, but this SHIBUYA HACK PROJECT does not imagine the completed shape, but if such elements are present, the town will change! I think that I am planning a mechanism that I do. The definition of the term "vision" to be shared is not a so-called completed figure, but a town image where various things can be done, a design drawing with a high degree of freedom is more comfortable.
─ It is real feeling at work of loft work so far.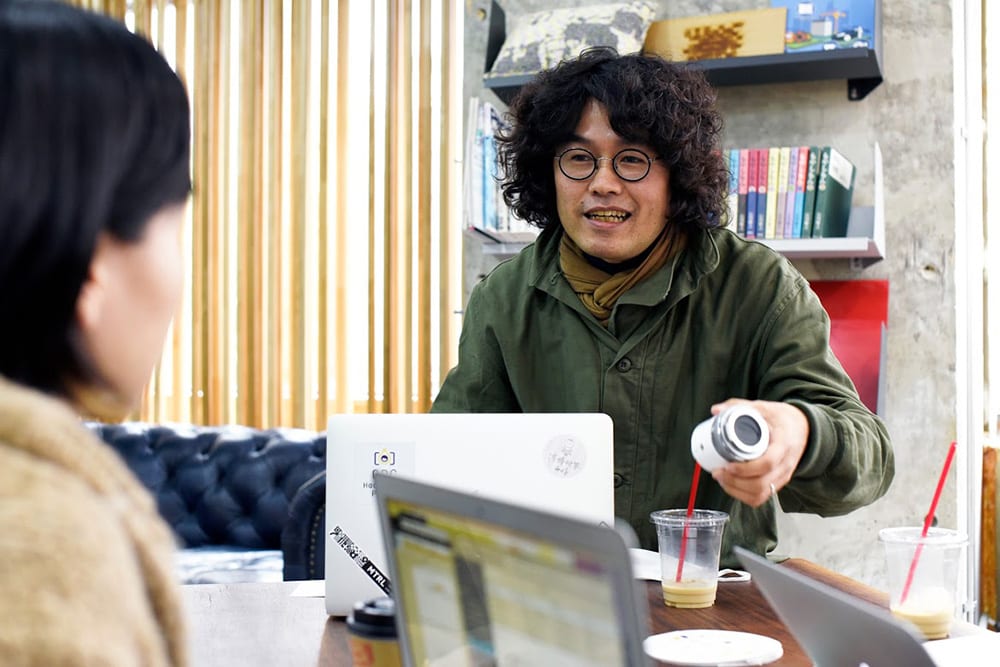 Tanahashi: For example, with this camera (OLYMPUS AIR), it is almost like a lens but hacking the function of the camera by interlocking with the smartphone. By customizing with an application or accessory, the degree of freedom of the camera is significantly increased, and what will you connect to? In other words, what opening entrance can you use for your own specification? I mainly design the place.
Similarly to SHIBUYA HACK PROJECT, it seems to be the point that we are going to open up the existing skimmer and create rules.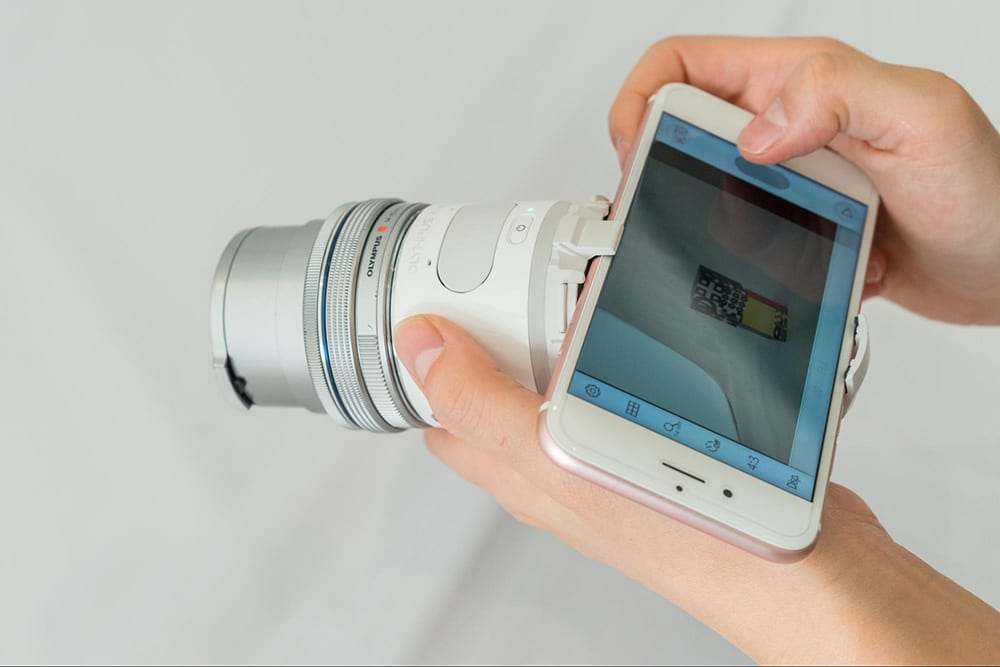 ─ I really feel trust for users. Active, if you do not have the feeling of the user saying "How can I use it more interesting?"
Tanahashi: Oh yeah. So when making this, I was involved in the development of applications and accessories, involving a community that uses this camera funny, as a one-cushion before a general person suddenly got into trouble by hand instead of a single item when making this It was.
ISHIKAWA: There are many ways in which to create a space for loft work, to hand over people with as many margins as possible, rather than to create a clear and functional place to use, and to grow people who can use it well. It is like fostering the user community and overwriting the function of the space.
IWASUWA: I think that it was very important that we will start with SHIBUYA HACK PROJECT for the current term, involving from close people. I was able to think deeply through the trial what I see in the margin of the town is really margin or what I can draw and I could try measuring the size of the degree of freedom there It was.
─ In this event surely the entrance of SHIBUYA HACK PROJECT spreads, people who can touch this activity and people who want to collaborate will also increase.
Project Details
New town planning that challenged with developers of Tokyu Corporation