Artists create ultimate futures and new VR visions for Newview project
Engendering new ideas through a cycle of resonance, expression and shared realities
The way we think about and use VR is changing. With Psychic VR Lab's 'Styly', anyone can easily create VR content online – even without the necessary programming or coding skills. Since 2017, Psychic VR Lab, Parco and Loftwork, have collaborated on the 'NewView' project to realize the potential future of virtual reality design. Utilizing the Styly tool, the 'NewView' project reimagines VR as a new way of expression and experience outside of the confinements of gaming and entertainment.
How can we design VR in realms outside of gaming – such as fashion, culture and art? Newview is an experimental project that seeks to tackle this very idea.
Rather than promoting the project through simply disseminating information, we involved creatives right in the production process. This instilled within them the agency and motivation to try out new technologies and explore new ways of expression.
Our aim was to allow creatives to "resonate" with the ideas prescribed by the project, "express" themselves through the use of Styly, and create a space where creatives can "share" their works and ideas with their surroundings.

Using this as a starting point, creators are empowered to further develop resonance, express, and share. In this cycle, an individual's can grow into interest amongst individual networks – enabling a ripple effect in the wider community and world.
In order to cultivate resonance towards the ideas suggested by Newview, as well as the desire to create independently, we collaborated with partners who were able to help promote vital information, as well as overseas FabCafe members immersed in the local creative community.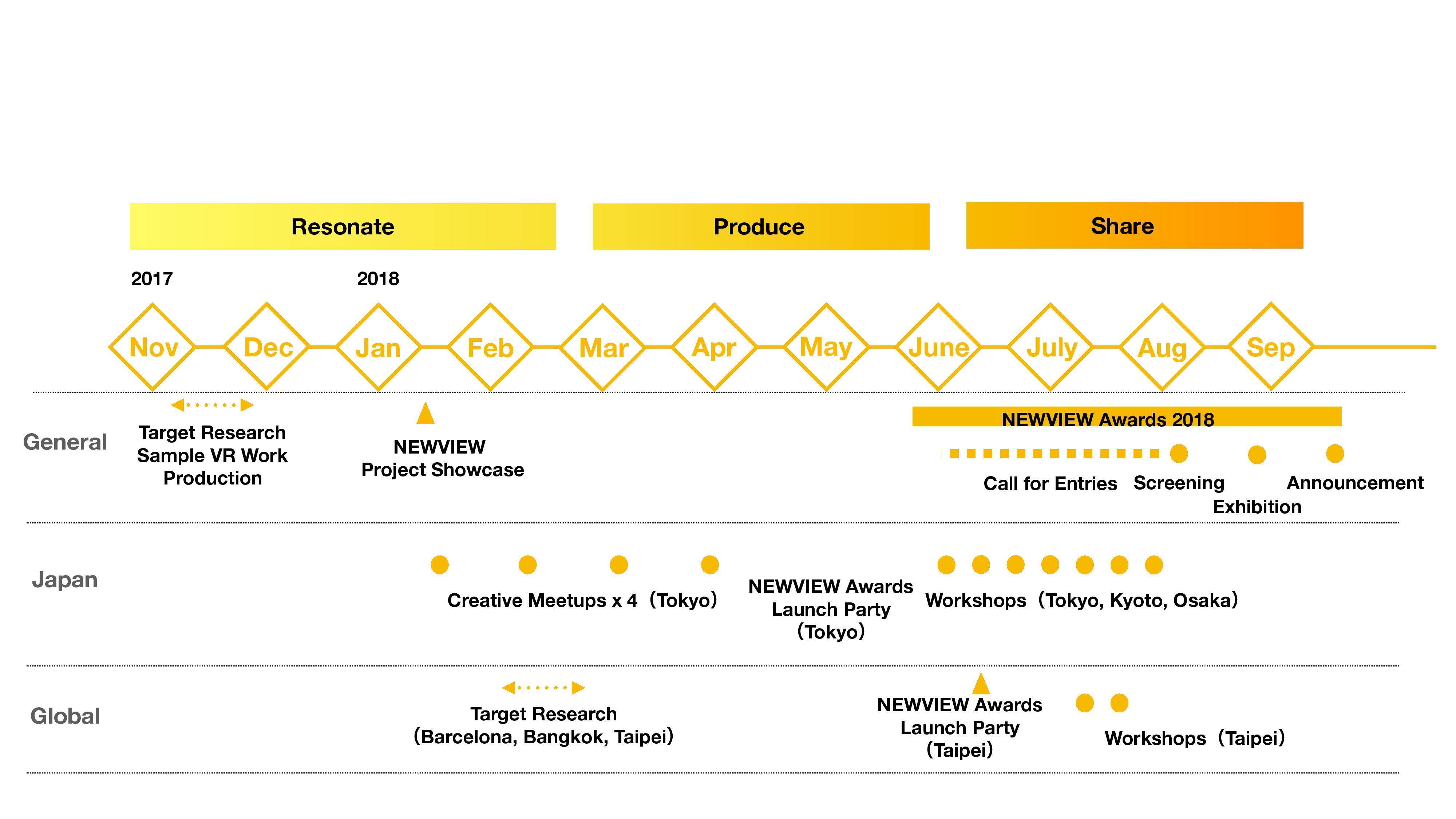 1. Target Research
As the project commenced, we interviewed creatives and students in fashion, culture, and arts industries. Based on our findings, the target audience/s, the name of the project, and the foundation of the project, were laid.
In addition to research conducted in Japan, the global network of FabCafe branches was utilized to organize workshops and interviews with potential users. The locations chosen were Barcelona, Spain, a major European hub for creators from all over the world; Bangkok, Thailand, a thriving arts and technology up-and-comer; as well as Taipei, Taiwan, which has strong ties to Japanese culture and trends.
With the intimate knowledge of their cities' creative environments, as well as their tight-knit relationships with the local community, the respective FabCafe Directors brought suitable candidates aboard the project. They introduced the 'NewView' project, set up workshops for learning 'Styly', and created ways for participants with resonance to the project to instill that very resonance back into their own networks and communities.
Deepening the understanding of users through localized workshops
Of the workshops and interviews conducted in the three cities, Taipei generated the strongest response to the NewView project. It was thus chosen as a local community incubator, whereby members of FabCafe Taipei could independently develop a program for their own community.
During the 'NewView Awards 2018' call-outs, Taipei members held numerous workshops in the local language (Taiwanese Mandarin) to cater to interested creatives. Influential Taiwanese creatives were also invited to attend the workshops, adding even more flair to the VR space. With the help of staff and partners, more than 30 high-quality works were gathered in Taipei.
Linking up with stakeholders and businesses in relevant industries
For the community to continue to thrive overseas, we made it a priority for the project to develop autonomy, independent of the Japan NewView team.
Held in June, 2018 at FabCafe Taipei, the 'NewView Award 2018' Launch Party was able to tap into FabCafe's business network. This became an opportunity for not only gathering creatives, but tech companies, media, businesses, critics and more, for potential collaboration.

2. Visual Identity
The 'NewView' project takes its name from the idea of taking on new perspectives. The project uses the tagline 'Design your Ultra Experience' as the main drawcard, and combines analog and organic elements for a playful and irreverent visual identity.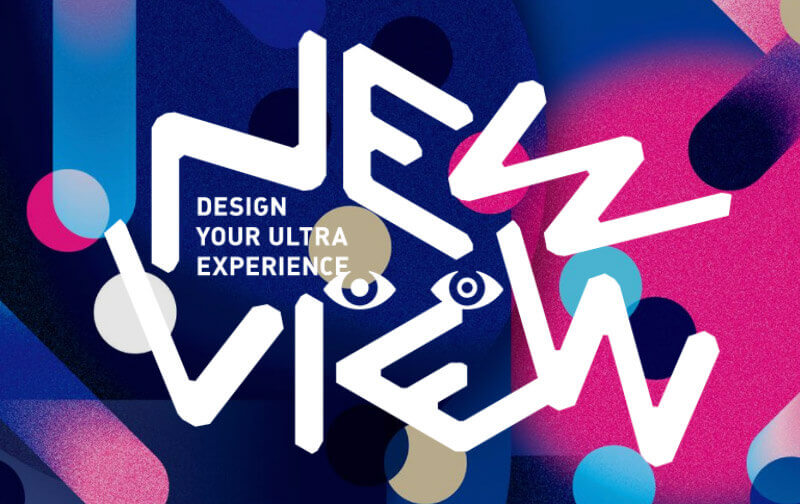 3. Web Media
A website was set up to act as the main source of event information. In addition to promoting event-related news, the website also showcased artists and works – and how each work was made.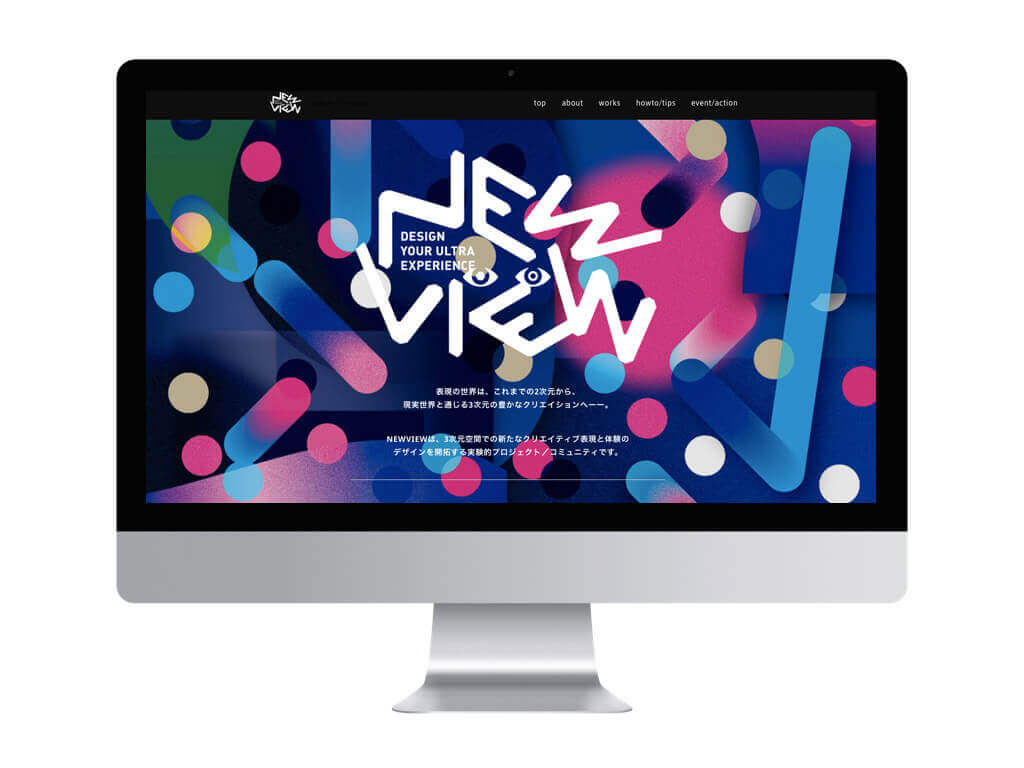 4. Sample VR Work
Before the start of the project, most people had yet experienced VR works in the arts and culture industry. To promote the possibility of VR in these spheres, ten creatives of the Tokyo zeitgeist created VR works using Styly – resulting in a collection of unique and eclectic works, worlds apart from that of the VR gaming and entertainment sphere.
"STEREO TENNIS NEON TOWN" by STEREO TENNIS from STYLY on Vimeo.
5. Workshop and Meetup for Creators
After the 'NewView' project was announced, we involved various creatives interested in the project, kickstarting the operations for production sites. After the creators of the sample VR works discussed their experiences, production workshops were regularly held in Tokyo and Kyoto. Not only were creators able to actually make works, they were able to meet and link up with creatives from a wide variety of disciplines.
6. Newview Award & Winning Works
Creators all around the world compete to design an 'Ultra Experience'
Tasked with the challenge to design an 'Ultra Experience', hundreds of artists from around the world entered the NewView Awards 2018. This VR creator community was showcased both in Japan and abroad.
By awarding outstanding VR works and giving creators' the desire to create, new ideas and developments for this new way of using VR were engendered.
The panel of judges included David OReilly (artist), m-flo (music producer unit), Gabin Ito (editor), Hideki Mastutake (musician, synthesizer programmer), and more. These active members of the music, culture, and digital arts industries chose the winning works, after thorough discussion on these new ways of expression.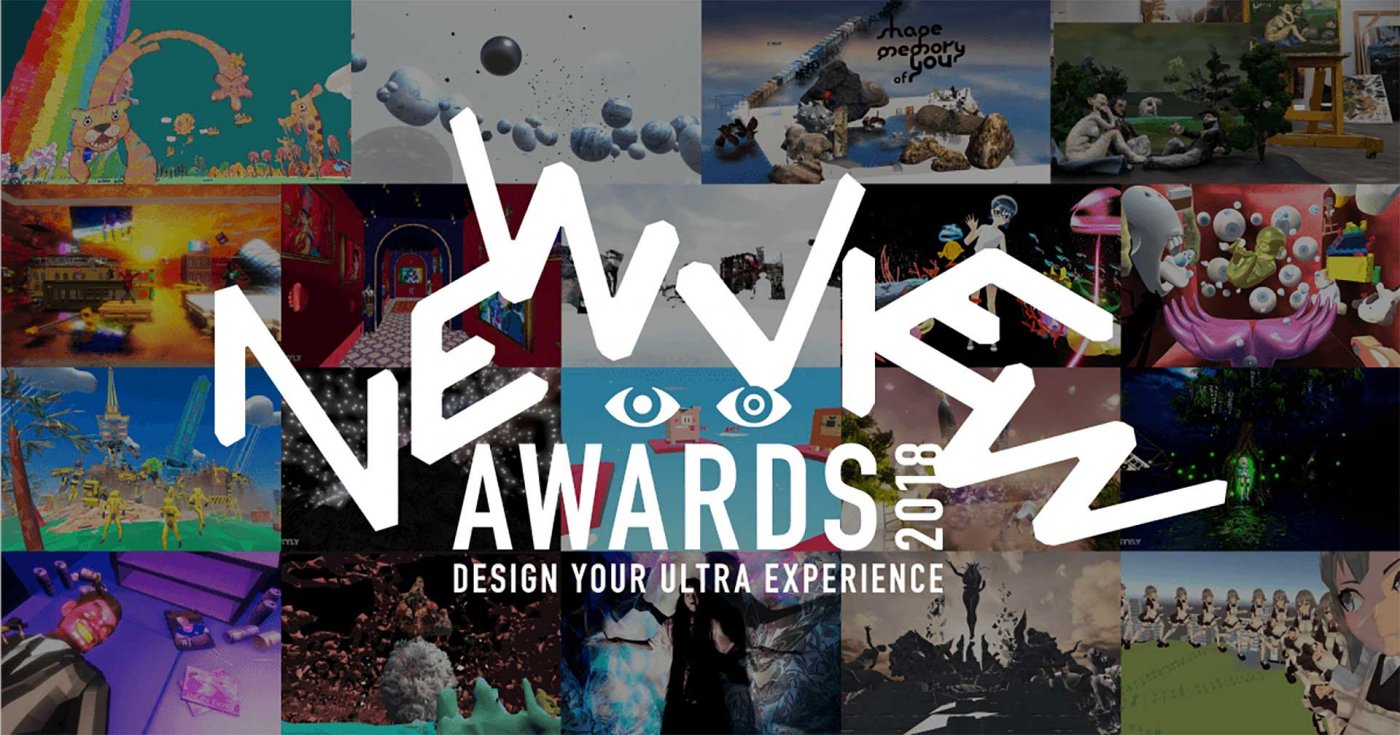 7. Exhibition
19 finalists and their works were chosen for a VR experience exhibition, held at Shibuya's Gallery x By Parco, a center for street art. As an event where visitors can experience works onsite, the event attracted everyone from Shibuya's young shoppers and tourists, to creatives and everyday people.
8. VR School
NewView School is a new type of design school located in Tokyo and Kyoto where students learn about VR as an artform, as a way to design unprecedented experiences. The instructors are pioneers who have incorporated digital technologies into art, music, architecture and fashion. The curriculum allows students to learn various and essential ideas for VR expression, integrated with aspects of art. The technical side of VR, including how to use Styly and Unity, is also taught as part of the curriculum. The final project for the course will be entry to the NewView Award 2019.
The instructors are Mitsuru Kuramoto (producer), Sou Ootsuki (filmmaker), Keisuke Toyoda (architect), as well as Akihiko Taniguchi (media artist) – who will also be on the jury board of the NewView Awards 2019.