Panasonic, Loftwork, and Cafe Company Open Experimental District "100BANCH" in Shibuya that is Building the Next 100 Years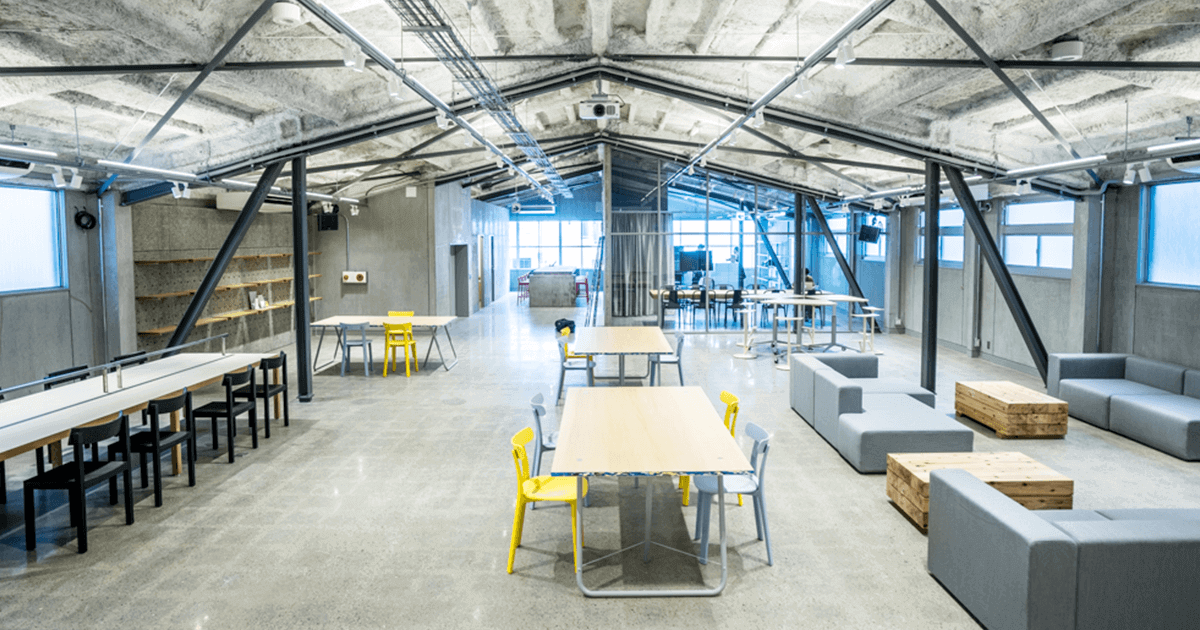 Panasonic Corporation (headquarters: Kadoma City, Osaka Prefecture, CEO: Kazuhiro Tsuga), Loftwork Inc. (headquarters: Shibuya Ward, Tokyo, CEO: Mitsuhiro Suwa), and Cafe Company Inc. (headquarters: Shibuya Ward, Tokyo, President: Shujiro Kusumoto) opened "100BANCH" on July 7, 2017 in the JR Shibuya station new south exit area as an experimental district that enriches the world for next 100 years.
The idea of 100BANCH was initiated while commemorating Panasonic's centennial anniversary in 2018. 100BANCH is a facility for creating new values that guide the next 100 years with a young generation that is shaping the future. It supports project teams, mainly consisting of younger generations, by connecting them with industry-leading mentors with various backgrounds and by offering the space to work on their projects. On the first floor, there is a dining area KITCHEN (*scheduled to open this fall) created and operated by Cafe Company to pursue a new food experience for the future. The second floor is the GARAGE, a workspace for project members where a variety of projects are simultaneously commencing. The third floor offers a collaboration space, Loft, for shaping the next 100 years together with Panasonic.
From April 12th to May 12th, 2017, we recruited project teams that would be occupants of 100BANCH for the first term. Thirteen projects were chosen out of 68 applications by an evaluation taking advantage of the field of expertise of each mentor. After July 7th, the selected teams will have their project spaces at 100BANCH and begin their activities.
100BANCH is located in Shibuya San-chome in the Shibuya area, where urban development is undertaken mainly by public administration, the local community, and the Tokyu Group. A 41-year old former warehouse was renovated with a spatial design by architect Jo Nagasaka (President of Schemata Architects)*. While utilizing the existing spaces, each floor is equipped with furniture with necessary functions, forming spaces that flexibly accommodate various projects and expression activities.
Panasonic, a representative electronics company in Japan that turns 100 years old in 2018; Cafe Company, which was founded in Shibuya Station's new south exit area and has been providing advanced cafés/lifestyles domestically and internationally; and Loftwork, which can be called a driving force for open innovations: we will collaborate in seeking new values that lead to next 100 years and deploy them in society, while utilizing the strengths of each company.
* KITCHEN on the first floor (scheduled to open this fall) was designed by the Cafe Company design team.
100BANCH(ヒャクバンチ)
〒150-0002 東京都渋谷区渋谷3丁目27-1
Website:http://100banch.com/
Facebook:https://www.facebook.com/100banch/
Outline of 100BANCH
1F KITCHEN
A dining space to pursue a new food experience for the future. It is produced and operated by Cafe Company, with its headquarters in Shibuya Ward, Tokyo, and its first café also opened in 2001 in Shibuya Station's new south exit area. KITCHEN is scheduled to open in fall 2017.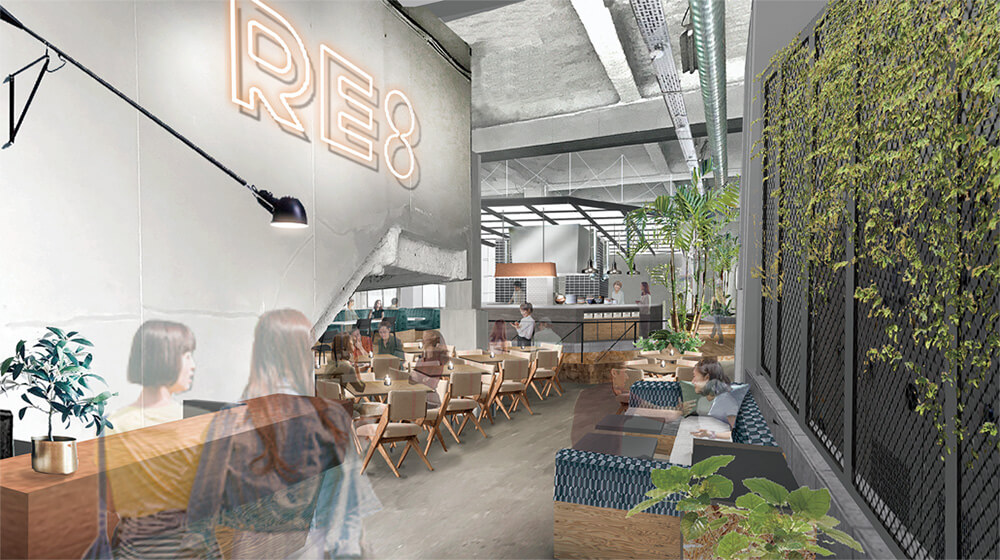 2F GARAGE
A workspace for project members where a variety of projects are simultaneously commencing. About 15 project teams regularly use this space as their base, promoting projects, while communicating with visitors to 100BANCH, by displaying prototypes and holding meet-ups.>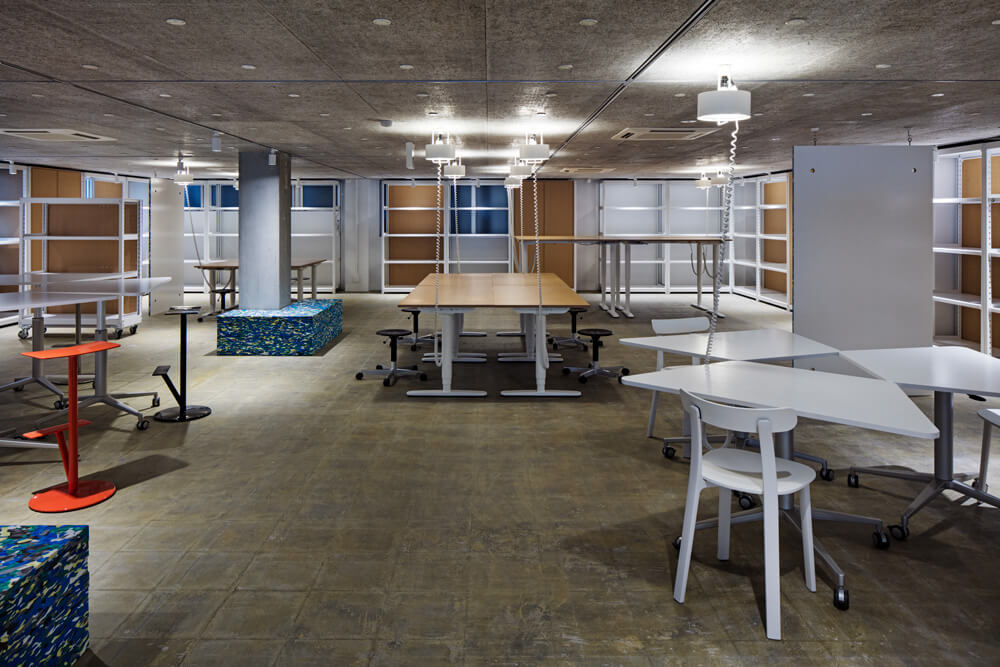 3F LOFT
A collaboration space established by Panasonic to celebrate its 100th anniversary in 2018, for shaping the next 100 years. The aims include capturing signs of the future and creating new values. During nights and on nonbusiness days, the space is open to the public as a venue for workshops, presentations accommodating up to 100 people.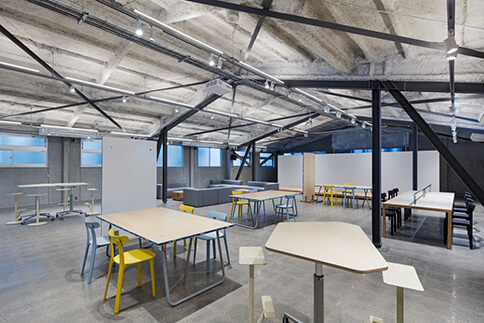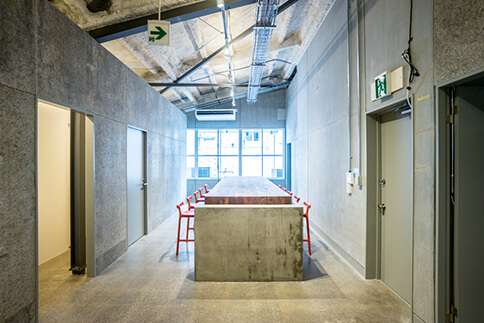 With these three floors combined, we seek to make 100BANCH into an experimental district, where various projects with new outside-the-box values are simultaneously commencing in the short term, creating new values that enrich the world for next 100 years.
Selected Projects for the First Term and Mentors
Among the 68 project applications for the first term (applications accepted from April 12th to May 12th, 2017), a total of 13 projects were chosen after evaluation by 21 mentors. The selected projects included "Development of a Speech Bubble-style Translation Device for Catalyzing Conversations," "Development of an Open-source Personal Robot," "Project for Establishing a Cricket Mass-Farming Method and for Popularization of Crickets as Feed for Fish Farming," and "Project for Transforming an Entire Town into a Co-working Space."
With team leaders under 35 years of age, the first-term project teams will attempt to create new values for enriching the world for next 100 years. They will move into the GARAGE on July 7th and begin their activities with the mentors.
List of Mentors
Yoshiki Ishikawa (Doctor of Preventive Medicine/Co-founder of Campus for H Inc.) / Masanori Ikeda (Photographer) / Fumiko Ichikawa / Takuma Iwasa (President & CEO at Cerevo Inc.) / Hiroyoshi Iwata (Associate Professor at Graduate School of Agricultural and Life Sciences, Faculty of Agriculture, The University of Tokyo) / Mitsuaki Oshima (Former Chairperson and Executive Advisory Engineer of Panasonic Corporation) / Etsuko Okajima (CEO of ProNova Inc./Professor at Graduate School of Management, Globis University) / Yoichi Ochiai (Media Artist/Advisor to the President and Associate Professor at University of Tsukuba) / Shujiro Kusumoto (President & CEO of Cafe Company Inc.) / Norihiko Sasaki (Editor-in-Chief/Managing Director at NewsPicks) / Takehiro Sekiya (Founding Editor-in-Chief at To-Ti Web) / Shinichi Takamiya (Partner/Chief Strategy Officer at Globis Capital Partners ) / Kai Tanaka (Owner of The OPEN BOOK) / Jo Nagasaka (President of Schemata Architects) / Mariko Nishimura (CEO/Producer of HEART CATCH Inc.) / Ken Hasebe (Mayor of Shibuya Ward) / Chiaki Hayashi (Representative Director of Loftwork Inc.) / Kana Bogaki (Director of CyberAgent Crowd Funding, Inc.) / Takashi Yokoishi (Founder/Organizer of TOKYO WORK DESIGN WEEK/CEO of &Co., Ltd.) / Kei Wakabayashi (Editor-in-Chief of WIRED Japan)
Honorifics omitted and listed in Japanese alphabetical order
About Project Participating Companies
Panasonic Corporation
Panasonic Corporation is a general electronics corporation that manufactures, sells, and provides services for parts, consumer electronics, appliances, factory automation equipment, information communication devices, housing-related equipment, etc. The company was founded in 1918, when the late founder Konosuke Matsushita (age 23 at that time) began selling an attachment plug that he invented. For the following 100 years, the company has been committed to pursuing its basic philosophy of creating a better life for its customers worldwide and contributing to social development through its business. The company always places its focus on humans, considers their lives, and improves them—these have consistently been its fundamentals.
Loftwork Inc.
Loftwork is a creative agency that supports companies in new value creation through the power of open collaborations.
The company operates nine digital fabrication cafés, FabCafe, in six countries, the creative lounge MTRL for working with materials, the creator portal site Loftwork.com, and the learning platform OpenCU. With its mission of the "distribution of creativeness," the company provides a wide range of creative services through co-creations with creator communities worldwide.
Cafe Company Inc.
Founded in 2001, Cafe Company has been working on community development through the planning/operating of cafes/restaurants/hotels, and developing/producing commercial facilities, as well as through projects for effective uses of vacant lots in urban areas and for regional revitalization. It operates 112 shops (as of end-of-June 2017), such as WIRED CAFE, in Japan and overseas.
In its philosophy, "CAFE=Community Access For Everyone" is considered an essential infrastructure for the next generation that creates feelings and sympathetic communities among people. The company pursues realization of active local communities.