Design a new experience for college selection
To choose a university to choose from the contents of academics. Update "quality" of college selection.
Seven years have passed since Rikkyo University's Web site had various problems, such as changes in the viewing environment of smartphones, tablets and the like, as well as students, students, mixed information for teachers and staff, and so forth since last renewal.

In order to remedy this situation, Rikkyo University 's Public Relations Division wants to re - edit the appearance of the university site, including redefining the mission of the university publicity, rather than simply renewing the site The renewal project with Loftwork started, thinking.
Renewal policy formulation
Toward the renewal of the Web site of Rikkyo University, we will showcase the university Web site that we need in the coming years to analyze not only industry trends, but also in-campus hearings and field work on university campuses to concept extraction workshops The review process is under consideration, and the redefined contents are documented.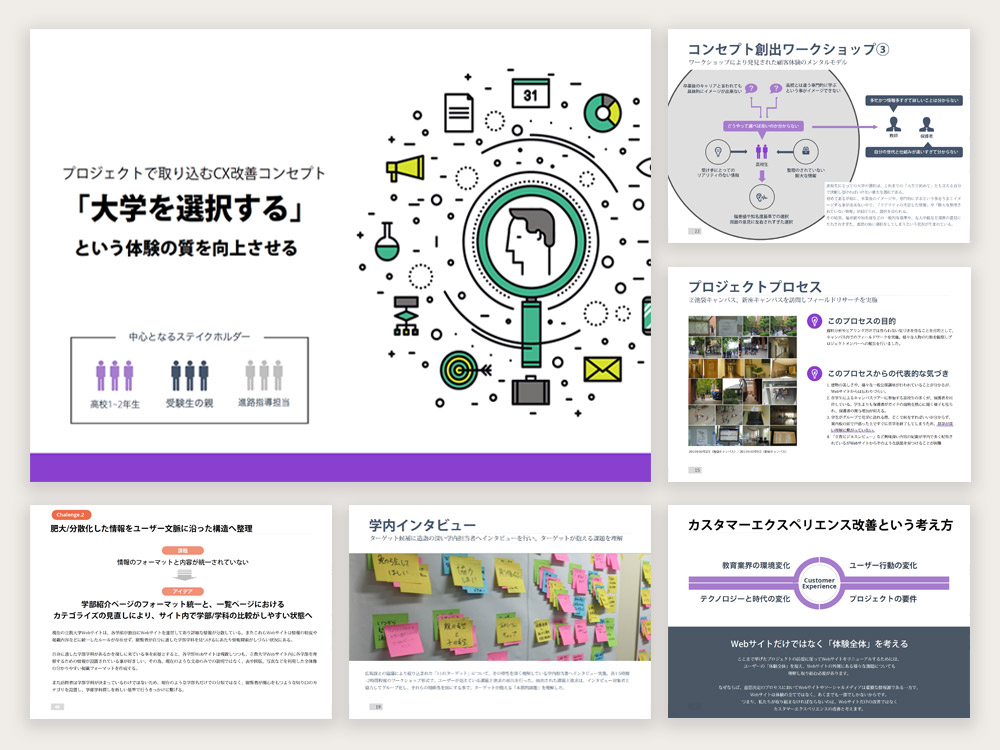 Production of concept graphics
Aiming at a design that makes you feel intuitive in the academic and sophisticated Rikkyo University's impression, not to create a web design suddenly, but to prescribe the whole world view such as coloring, impression of letters, how to use photos Developed four types of leaflets as concept graphics. Based on those, we developed a high-intensity visual identity by developing it to the design of the website.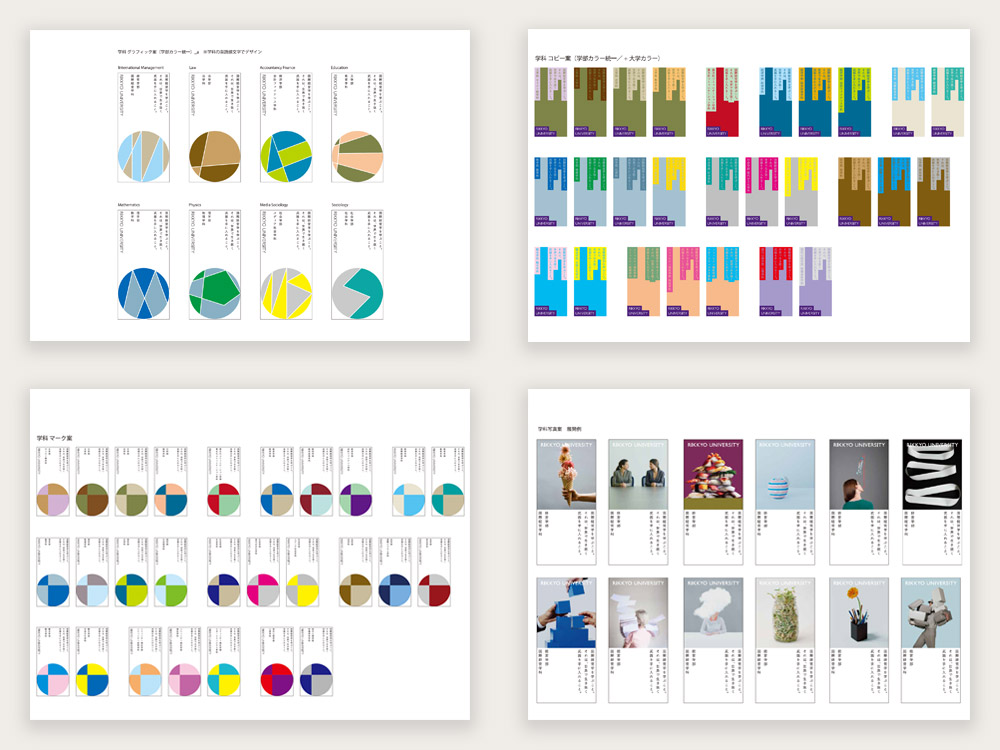 Prototype creation using Web site builder XPRS
Create a mock-up site that can be experienced on smart phones and PC's actual machines, consider test writing of articles to be posted and images of used pictures. By utilizing Web site builder ( XPRS ), we realized speedy mockup production.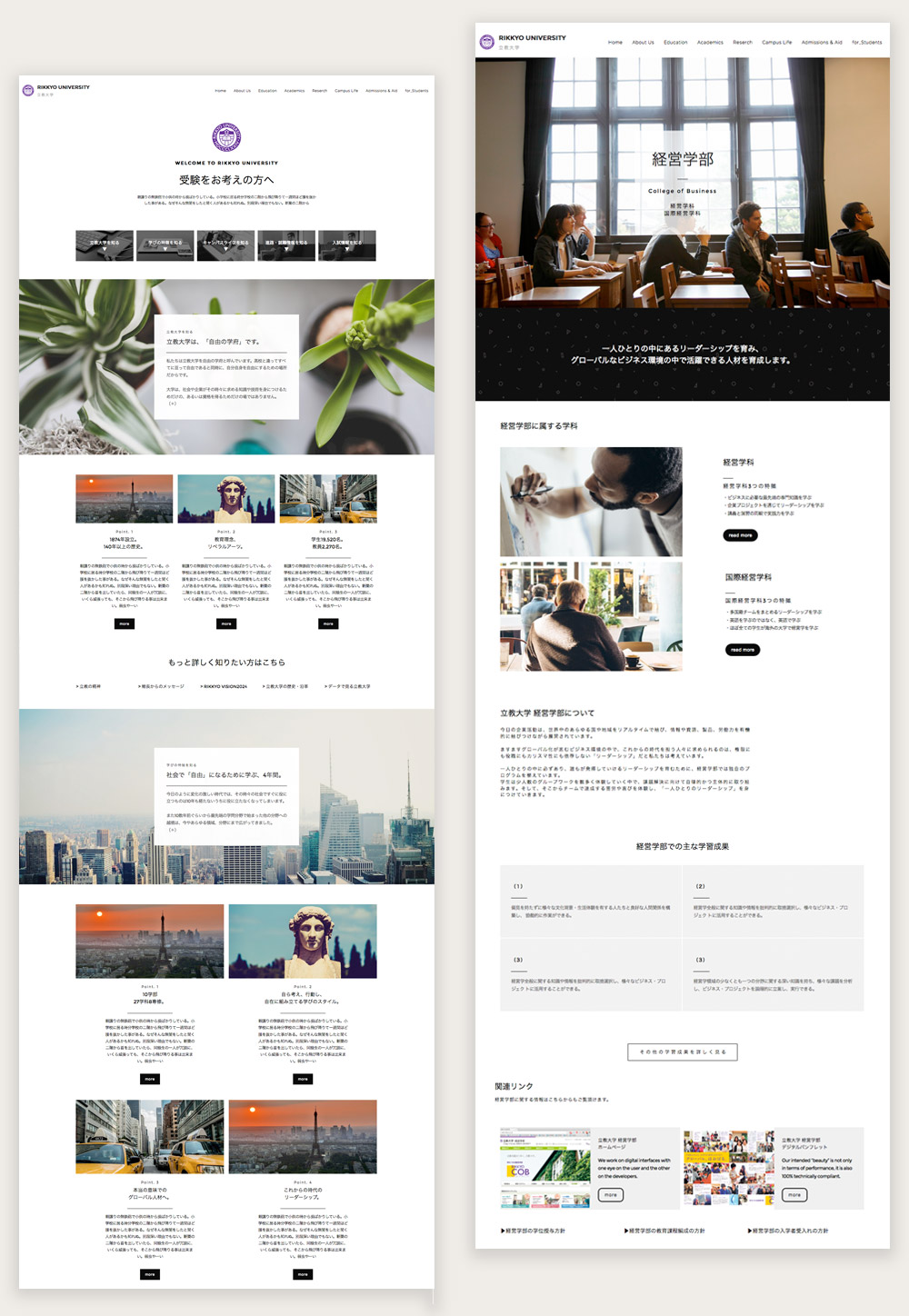 Production of a season movie to convey the air of the seasonal campus
To convey the feeling of air in the university that can not be expressed with only words and pictures, shoot movies for each season and posted on the top page. It is made up of daily scenery of nonfiction photographed in real university life all sticking to reality.
Content redesign and writing for all departments
How do you convey the attractiveness of academics and stimulate the switch of interest to a high school student who is not even aware of the difference between "economics" and "business administration"? The point became a system that can approach multiple departments from various keywords and a careful examination of the words carefully done from the time of prototype production. In addition, we are designing content that can touch on the attractiveness of learning from a multifaceted perspective, such as setting up columns to introduce surprising research areas of each department.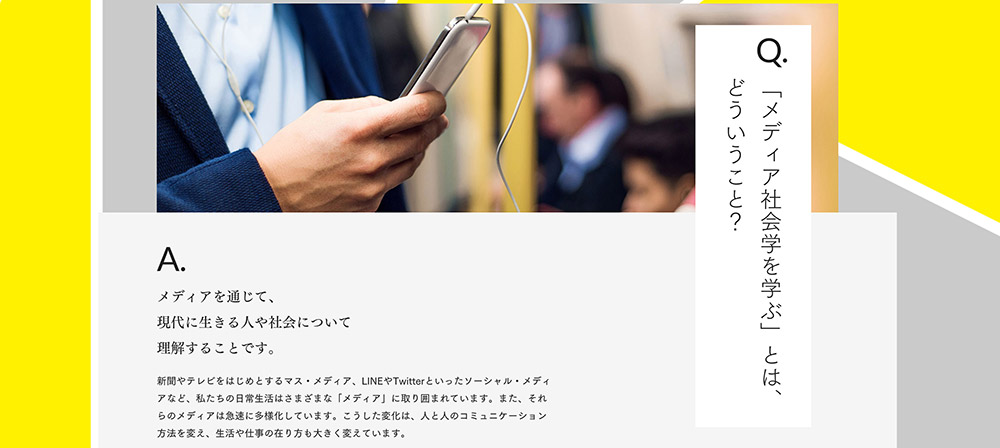 Voice
"Approximately 70% of access to the University website of 2016 was accessed from mobile terminals such as smartphones and tablets. Therefore, I examined not only the design but also the volume of sentences from the viewpoint of whether it is optimal when looking at the smartphone. Also, as a result of this renewal, we implemented information living with the site for in-school people (SPIRIT). We designed conductors such as narrowing down the amount of information and the number of links so that we can quickly reach the information that we want to see when the main target candidates and those outside the university read it. Since it was a complex migration task that involves coordinating with each department and consolidating and splitting pages, rather than a simple site migration, most of the migration work was done on campus except for some pages such as news It was."
Rikkyo University Public Relations Division
"I think that choosing a university is the choice of what I want to learn. What kind of things did you want to know and what was it interesting? Such an encounter with my interests should be a catalyst for choosing course and there was the idea that the university who gave me that opportunity first should be the person's aspiring school. In the questionnaire beforehand, students who said "they chose Rikkyo University by themselves" are very satisfied while they are enrolled, whereas they say that the satisfaction level of students "selected by being recommended by people" is low had. So, I wanted to have awareness that I chose a little by myself, and I thought that if I could do it, I could improve not only the quality of the university selection but also the quality over the next four years."
Loftwork Kyoto branch business manager Shoma Terai
""Taking a look at the site renewal, I want to start preparation soon", the first time I got consulted was the timing more than a year and a half before the desired date of disclosure. Thanks to the early start to do the upstream process carefully, we believe that the site design that focused on the design of the user experience and the construction of the optimum team structure were right. Moreover, I was stressed in the form of the person in charge who performs a large amount of data migration work by himself. (It is imagined because I have not seen the work site.) Let's make good things together from now on."
Loftwork Producer Mari Ishida
"As a technical director, I was in charge of reviewing the design and coding from the technical side and designing the specification of the CMS. On the Rikkyo University website, color patterns and resources segmented in undergraduate departments and departments are used in various places. In order to make it easy to add settings based on the color scheme on the operational side at the time of newly establishing the undergraduate department, the design of the management part has repeatedly studied the balance between flexibility and constraints. This time, I participated in the review work of the content team, and it was a project of a slightly different way of engaging with us. Contents that each member sticking to attention is content that makes you feel "possibilities" at university, it is worth seeing, while I review the undergraduate page and research column, I myself asked many times " I wanted to see such a university website around ... "It is impressive that I spilled it."
Loftwork Technical Director Masumi Murata