Case: Shibuya hack project, a challenge to develop a new community
Bottom-up approach of urban development by "building the town with our own hands"
Shibuya Hack Project is an urban development project jointly handled by TOKYU CORPORATION and Loftwork Inc.

We are carrying out a "once in a century" large-scale urban development in Shibuya in preparation for 2020. However, there are not many opportunities for people in Shibuya to be directly involved in town planning as most of the initiatives are top-down approaches led by the government and developers. For TOKYU CORPORATION as well, fostering civic pride (attachment and pride towards the city) and creating new experiential value in this city called Shibuya is a major objective to attain.

Web media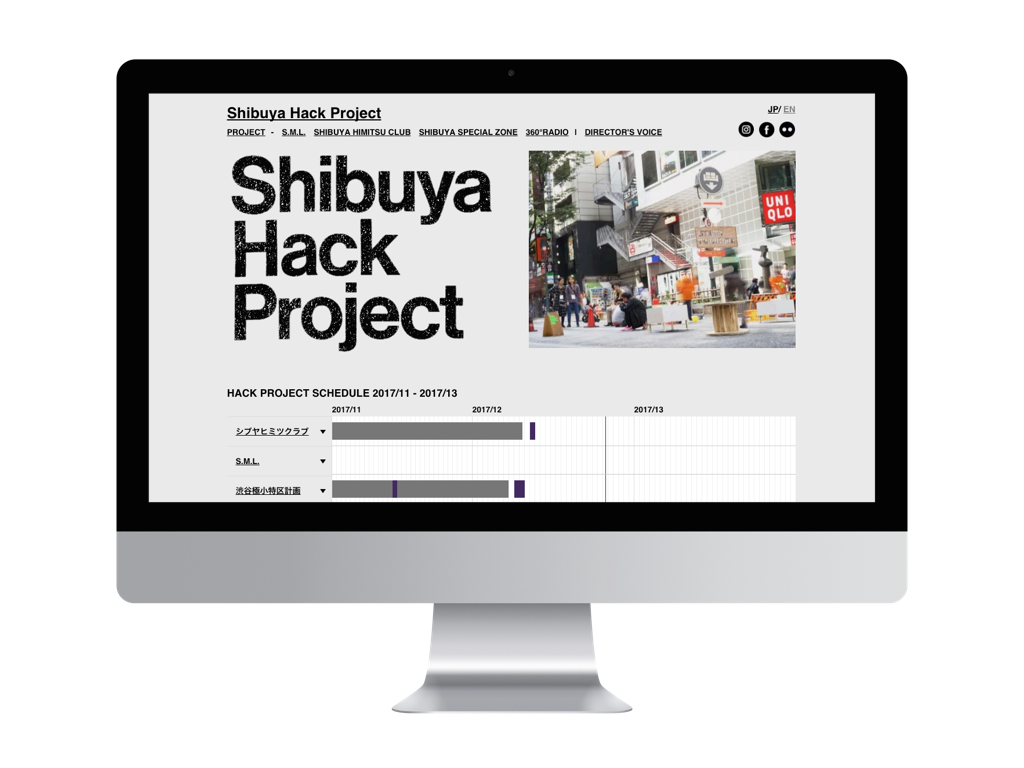 Shibuya Hack Project Website
#01 Shibuya Secret Club
"Shibuya Secret Club" is a new experimental project meant to discover ways to enjoy the new city born from utilizing unused assets. 43 guests, including government officials in Shibuya,members of TOKYU CORPORATION, media, shopping streets and creators, gathered in front of "Shibuya 109" on the actual day without knowing any details in advance. They walked around the city and experienced first-hand four secrets that were set up beforehand. Live performances of tap dance and light installations greeted the guests on the rooftop which served as the final goal of the day. It was a project that gathered the key people that will be involved in the urban development hereon in the "gaps" in Shibuya and created shared memories of that night among them.
Results:
Changed an unused space into a performance venue

Implemented and managed drama on the streets

Completed PR video production

Number of participants on actual day: 43

(Breakdown: 15 creators, 10 Tokyu officials, 6 government officials in Shibuya, 5 media personnel, 4 researchers/intellects, 3 people from the shopping streets/owners)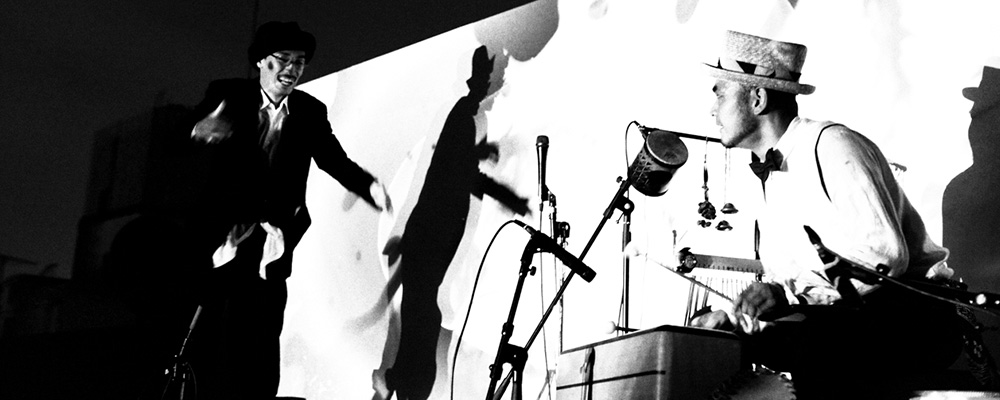 #02 STREET FURNITURE HACK
"STREET FURNITURE HACK!!" is a project that experimented the change of relationship between people and the city. This is done by putting unique furniture with the theme of "wanting to get involved" produced by three groups of two architects and designers on display in Dogenzaka which is a pedestrian heaven. The furniture produced by each of the groups were placed in four central areas in Shibuya and received varied reactions depending on the generation, gender and nationality of the pedestrian. A report was created based on the theme of "advanced utilization of public space" based on the findings and issues discovered after the STREET FURNITURE HACK!! project ended. We analyzed and examined public spaces that would allow individuals to get involved freely and hope to share the knowledge with everyone.
Results:
Constructed a creative relaxation space involving road closures

Executed field work in Shibuya and produced furniture in collaboration with Dogenzaka Youth Association, Jissen Women's University and creators

Five media publications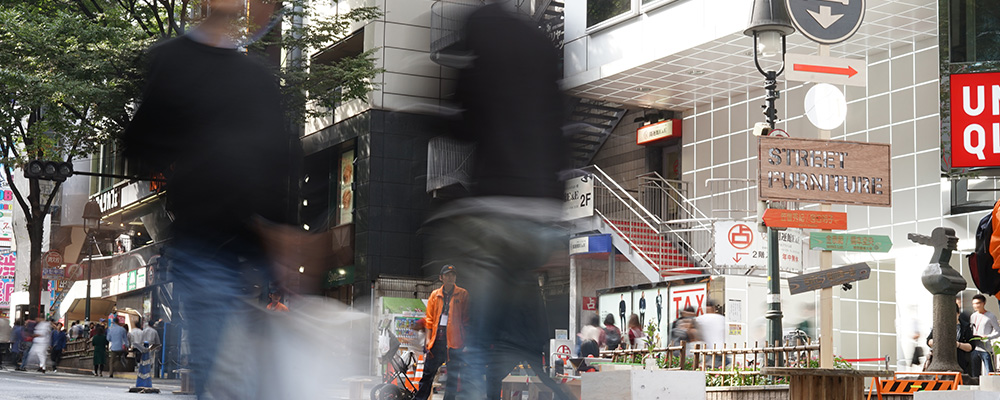 #03 SHIBUYA 360
"360° Radio" is a project which involves visiting a key person with interesting gimmicks and leaving behind sound archives of their activities and underlying thoughts in Shibuya. This event has been released for a total of fours times since its start in 31 July 2016. "Leading players in the city" with different personalities appear each time ,such as a farmer/editor that created a corn field on the rooftop of a live bar, a coffee stand that created a new community with five units of land, a party creator that handles many popular projects, and a sociologist studying urban/building theories. This project is set to continue in the future. We aim to create a space where we can archive and share the know-how for urban development acquired from key persons with various thoughts and genres.

Process to hack Shibuya in a creative way and three characteristics of the project
Small hacks create latitude for the city
A series of small ideas and actions by each citizen becomes a big wave, and ultimately change how city and public space exists. The process to hack the area in a creative way represents the Shibuya Hack Project's bottom-up approach of urban development.
For instance, STREET FURNITURE HACK!! is a project where temporarily hack Dogenzaka, a part of Shibuya by laying out unique furniture by three artists. Installing small discovery or unusual feeling on the streets where you are familiar with enables us to see the meaning and public nature of streets.
Luckily, Shibuya, one of the most mature area, is rich in both tangible and intangible resources; streets, rooftops, commercial facilities, people, information, history etc. They are such an attractive materials which can be seeds to expand possibility Shibuya has. Discover the resources, reframe their values, hack in a creative way. Repeated small transformations and creating fait accompli leads a mood to accept changes on urban society.
"We can change our own community by our hands".
Creating such a free way of thinking is the role of Shibuya Hack Project.
Interview on SHIBUYA HACK PROJECT
Three characteristics of the project
Using Existing "Materials" in the City
There is much room for intervention in Shibuya that we can work on such as unused rooftops, random flowerbeds by the roads, and roads with no traffic in certain time periods.
We will discover these uncovered "gaps" through fieldwork in the Shibuya Hack Project, which will then be regarded as "materials" and used thoroughly. It is a feature of this project to change the way people see the landscape and their relationships with the city by redefining these "materials" through the eyes of artists and creators.
Shaping Small Ideas Quickly
Long-term changes in the city can be encouraged by repeating short-term actions in public spaces.
The idea of Shibuya Hack Project stemmed from the concept of "tactical/urbanism (strategic city planning)", which encourages the swift execution of plans and shaping them with the feedback obtained rather than spending time doing thorough planning. Shibuya Hack Project is based on practice and experiments, and aims to execute major changes by practicing numerous individual initiatives.
Equal Relationship Between People
Shibuya Hack Project involved people from all walks of life such as the government and companies, shops and youth associations, researchers, artists and creators.
It is important to maintain equal relationship between people in order for the project to progress smoothly. Each member is participating as an individual and working hard to create a DIY city. We need to understand the "awareness" and "essence" of urban development by putting aside logic and rational/efficient judgement of companies.
Future Prospects
Research for Shibuya Hack Project began in 2015 and three projects were executed in 2016. For 2017, we have four projects created with diverse members lined up for Shibuya. It is also an important mission in 2017 to analyze the assets uncovered through research and putting them together as a material collection for the players involved in urban development hereon. The bottom-up urban development approach of "building the town with our own hands" will continue into the future.