A multipurpose office space design made to fit employees' working styles
Works Applications Co., Ltd. teamed up with Loftwork Inc. and Battanation Co., Ltd. to initiate a space design project with the goal of vitalizing intra-office communication.

In light of business expansion and an increase in the number of employees, Works Applications Co., Ltd. (WAP below), a software maker for large corporations, has teamed up with Loftwork Inc. and Battantion Co., Ltd. to create a space design project with the goal of vitalizing intra-office communication.

The three companies began with long-term research to ascertain the current state of workspaces, carefully developing the project starting with concept creation. The main points were "a space that serves a different function from a workspace and which provides a combination of relaxation and tension", "a space fitted to a variety of working styles where both individuals and teams can concentrate", "a space that promotes spontaneous communication."
Project Overview
Support details
Long-term research about working spaces
Formulation of space concepts
Space design/layout
Interior design
Lighting design/layout
Space/furniture photography: Ryosuke Iwamoto
Space design/layout Battanation Co., Ltd. was in charge of the design and direction of the space and various fixtures. They organized the space down to every last detail to fit the working styles of WAP employees and to encourage better concentration and communication among individuals and teams. This included designing lines of flow and zoning that left ample space, arranging chairs and tables at specific heights to create a concentrated gradation, and light design.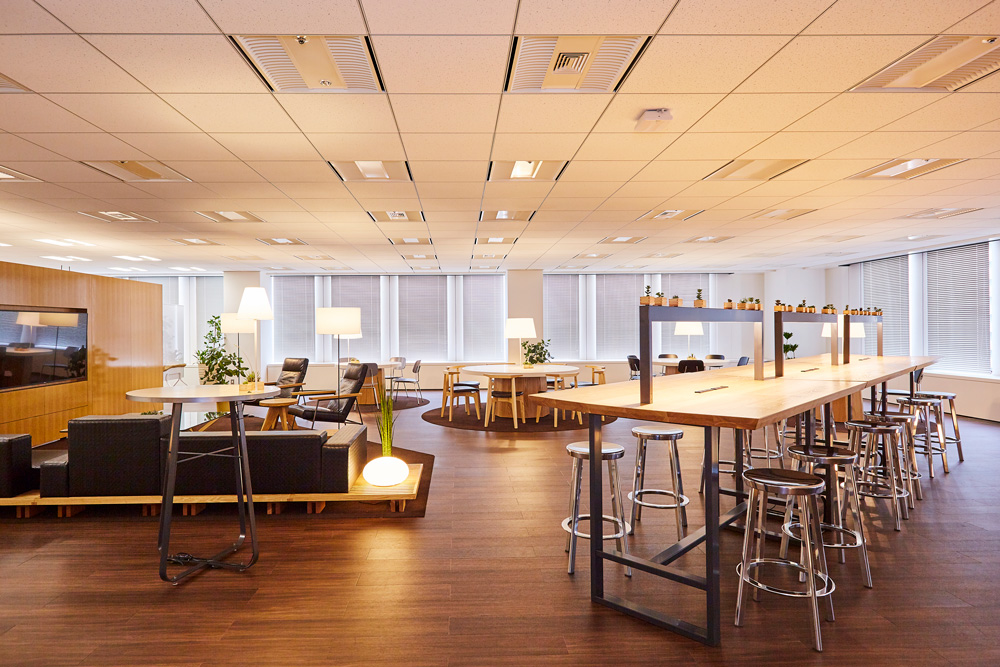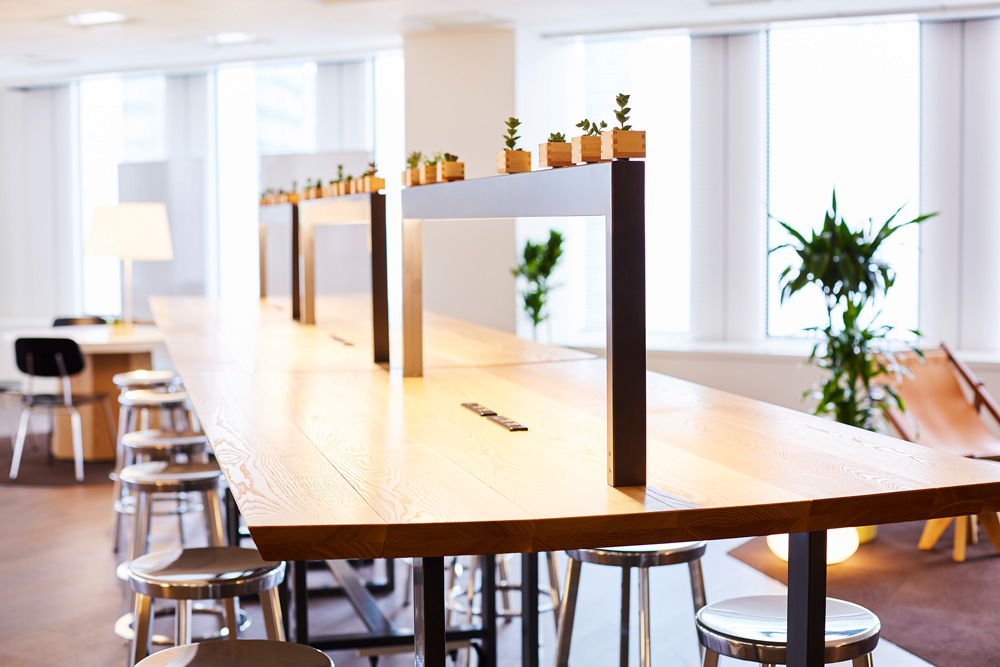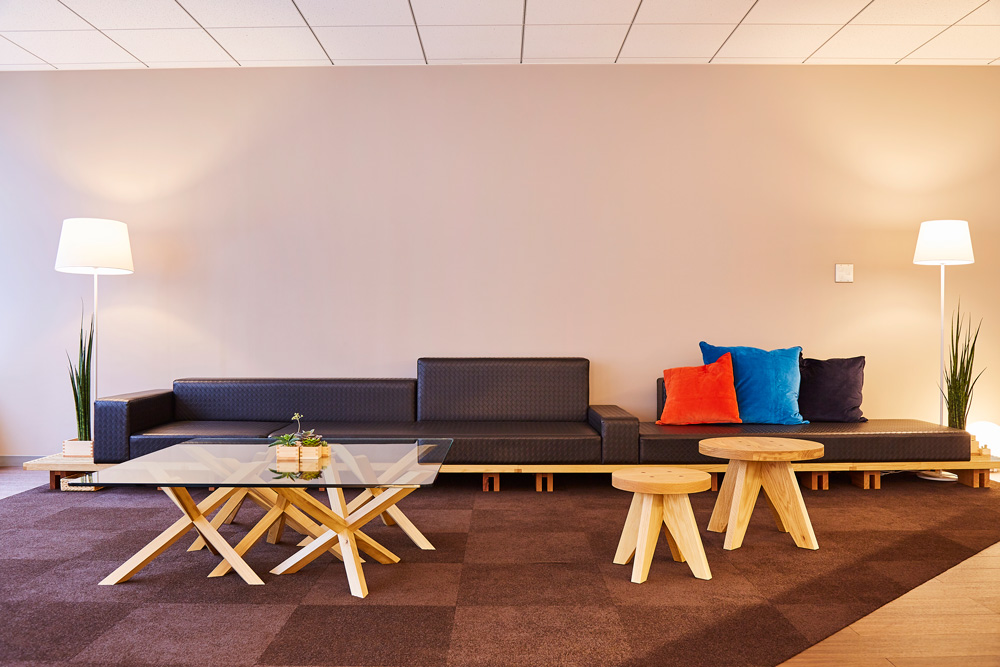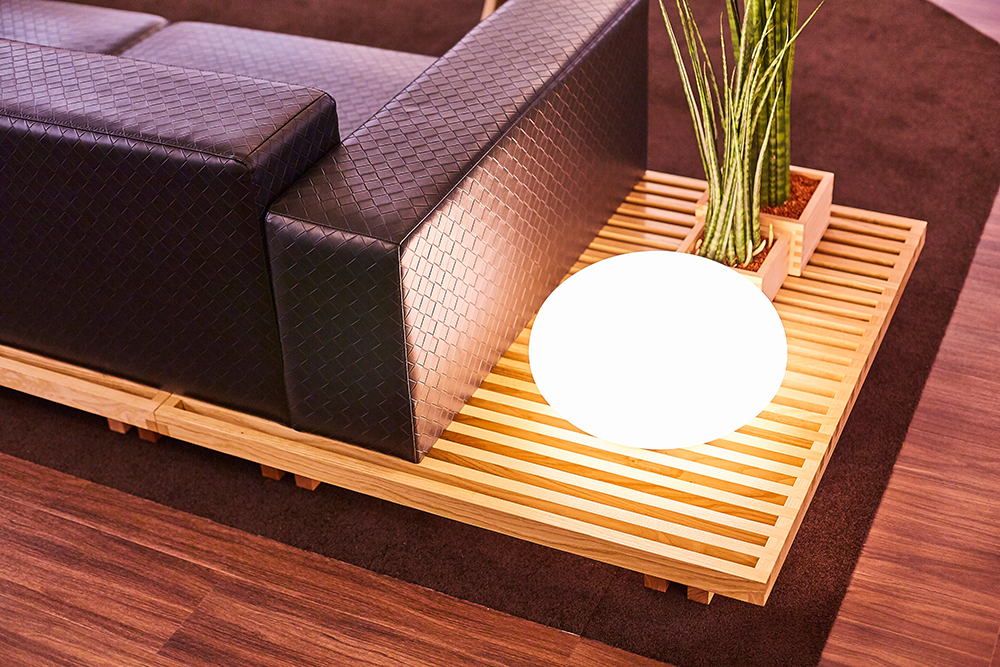 What is "magnet spot" that further activates internal communication?
Interview with project members
Process/Creative
Research
Research was conducted to design an office space that matched the working styles of WAP employees by reviewing case studies of national and international office spaces, as well as by spending several months at the WAP office observing employee behavior in their working styles to collect qualitative and quantitative data.
The results of this research showed that the current office spaces were counterproductive to developing a tempo that fit the work mood, and that workspaces divided up into departments and teams prevented spontaneous communication.
Concept formulation
Working styles and job contents vary between employees, and because employees' work schedules are flexible their core work hours also differ. At first we had drawn up a plan to improve the working space as a whole, but developed the idea of creating a space that covers all working hours from opening to closing based on the results of our research. That lead us to deciding to shift to a plan that created a space and functionality that could vitalize communication more deeply and in a shorter time.
The plan we created is based on the concept of a "magnet spot" that gathers people together and encourages communication. We created a space separate from the workspaces and developed "Barista" as a communication hub, giving it features to draw people together.