'Hacking' the conventional workspace through agile design
With agile work comes agile needs. When it comes to a new creative workspace, making room for a fancy desk and office plants don't quite cut it. Here, Loftwork helped NTT Comware rethink office design entirely – through the agile approach of continuous testing and adapting.
Outline
Not just another day at the office: redefining the work space
When NTT Comware contacted Loftwork with plans for a new office space, they were already in the midst of comparing 3D drawings and plans designed by various firms – but nothing seemed to fit. 
Leaning into Loftwork's background in bottom-up design and emphasis on 'participatory urbanism', NTT Comware took a bold leap forward. Rather than settling with safe, cookie-cutter office designs, they decided to create an entirely original, never-before-seen space. 
As part of the NTT Group, NTT Comware is a company that specializes in creating information systems, including related software. It is also engaged in developing installation of their various products, as well as production, operation, and maintenance.

For this project, Loftwork worked with the SO Solutions department in the telecom business headquarters, an NTT Comware department known for embracing new and innovative work approaches.
Output
'Hacking' an office space: limitations and finite resources 
The main difficulty that NTT Comware faced was 'hacking' their space to realize their unique vision – as an office tenant.
COMWARE TO SPACE is located in the Shinagawa Seaside Tower, an office building shared with other companies. With fewer options than company-owned buildings or completely new construction projects, the goal of the project, then, was primarily focused on how to best divide the floorspace.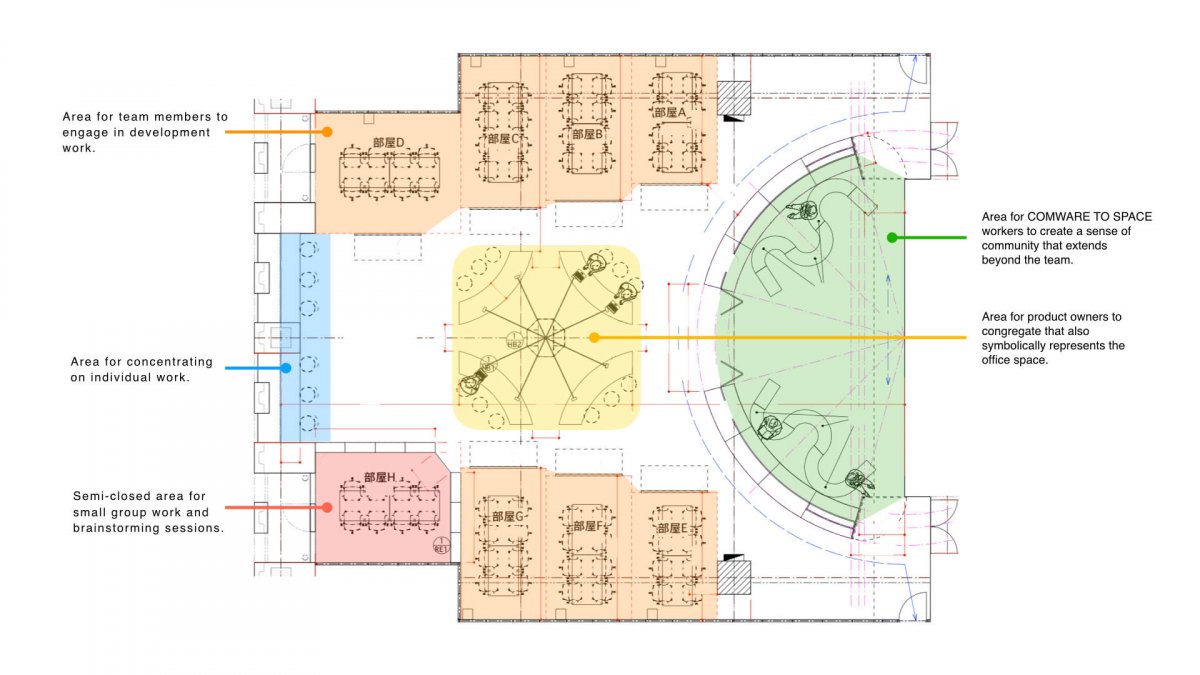 Lighting is intentionally installed separately for each area, featuring a uniform light bulb that contrasts with the white lighting of the neighboring offices. This creates a special feeling, almost as if you are inside a secret base.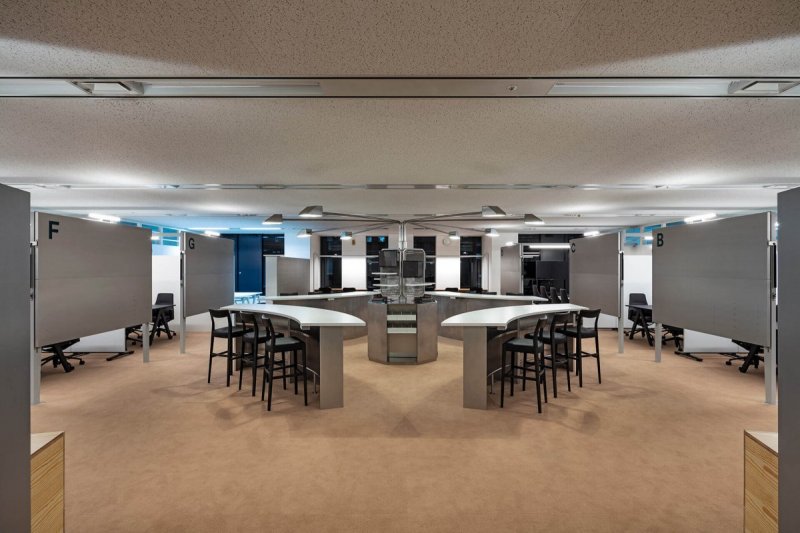 Area for team members to engage in development work
Huddling around a table helps the team get into a groove. This not only facilitates and improves the communication and sharing of ideas involved in development work, but also provides the option of customizing the work environment to suit a project's scale or situation – a key feature of the design. The steel partition walls, another clever 'hack', are repurposed from something that company already had on hand.
These silver appliances at the entrance create just the right feeling of semi-closedness, separating the area from the rest of the office. They also double as an exit, as well as a board where team and member names can be displayed.
Area for  product owners to congregate that also doubles as a symbolic representation of the office space 
Project owners can have their engineers utilize this slightly removed area in order to increase concentration and work on their designs more effectively. Here, workers can concentrate on their tasks, yet still share a comfortable closeness and the feeling of working together as a team.
Area for creating a sense of community that extends beyond the team
This space can be easily customized to meet the needs of those who are present – from single team members to full teams or other groups. It is ideal for freely communicating and working together in a more relaxed capacity.
Area for group work and brainstorming sessions
This space is separated from the main areas in order to create a subdued, calm atmosphere. While working in this space, team members can block out information from the outside world and focus on the task at hand. All four walls are fitted with whiteboards, allowing workers to produce and refine ideas in repeated brainstorming cycles.
Area for concentrating on individual work
This area is designed for doing work that extends beyond development-related tasks. The views from the windows allow for one to remember to take a break and breathe – a great way to catch a second wind.
Process
A fresh take for an original space: Using an agile approach to create a space intended for agile development 
Project design at Loftwork is fluid. In other words, we strive to be flexible and implement the most suitable process for each client. With this in mind, we test methods and processes we are interested in as we work on our projects – and this project was no exception.
Throughout the process – from formulating the concept for the space to designing the furniture – a cycle of prototyping, testing, and inspection was repeated as many times as possible. Thinking about the space through an 'agile' lens allowed us to fully consider the user experience, as well as the  functional requirements that come with this style.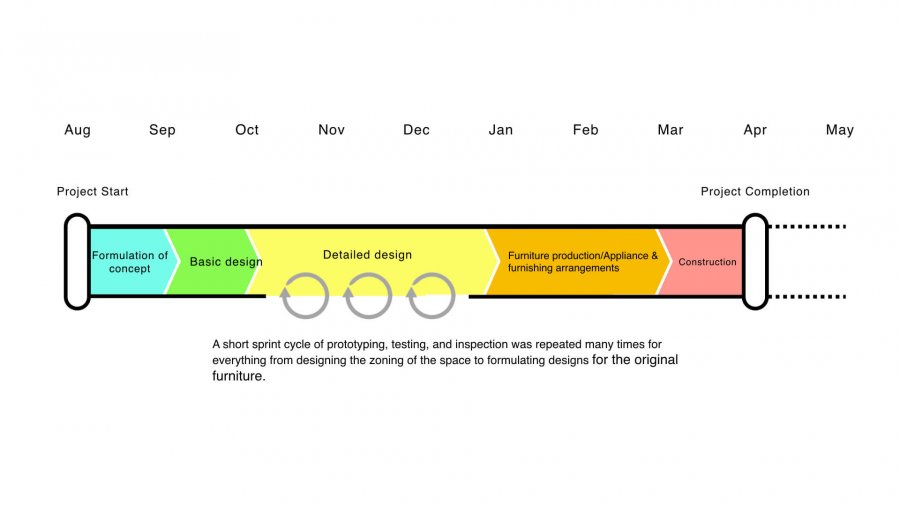 We applied this process of prototyping, testing and inspection to a new bench for the multipurpose area.
Building a sense of personalization through a collaborative 'scrap-and-build' process
While NTT Comware had committed to the idea of creating an original space at the outset of the project, there was quite a lot of trepidation around a space that was so difficult to conceptualize, especially given that there prior experiences or references to draw upon.
An unconventional bench is enough to raise eyebrows. In creating a curved shape rarely seen in an office context, which makes sense at the conceptual level, practical questions arise: What was wrong with the rectangular benches used by other companies in meeting rooms? Wouldn't the gaps become dead space, and hinder effectiveness? 
This is where prototyping is useful – and where a sense of personalization could be achieved, by directly involving the users of the space. Through this process, users are able to not only see the layout and original furniture designs, but also clearly grasp the ways in which the space functions. 
This process extends beyond the space itself, and encompasses graphic design, too. By repeating the short sprint of the prototyping cycle, NTT Comware was able to grasp the uses and applications of this logo, which greatly increased their satisfaction with the vision.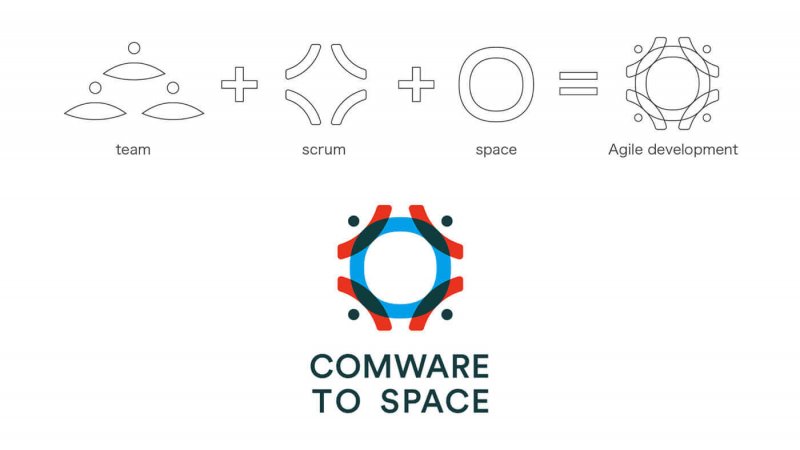 The COMWARE TO SPACE logo contains functional elements that convey the shape of the space, as well as graphics that represent the work done there.
Testimonials
"I have encountered many different viewpoints, but I really liked Loftwork's approach to space. Until this point, creating an office space was relegated to the suggestions of office appliance makers. This time, we challenged ourselves by starting with the question of what sort of space we wanted to create, and then selected partners based on our criteria. 

Now, when executive staff and business partners see the new space, they all comment on how unlike NTT Comware it is. Regardless of how these comments may be intended, they mean one thing for certain: we have grown into something new. What's more, each team's individual approach to using the space has begun to emerge, as has an open community connecting these teams. Everyone has their own preferences, so I am thrilled that we were able to create an environment that allows people to freely express themselves." 

– Jun Fukuoka (NTT Comware)
"Working with Loftwork on this project was very refreshing because we took on a far-reaching vision and worked together in a very positive manner. What's more, this project proceeded exceptionally smoothly thanks to everyone's attentiveness, enabling me to focus on the design aspect! The team prioritized respecting one another, resulting in a group of people that was easy – and fun! – to work with.

The challenge for us was in creating a space that had not been seen before. This meant working from scratch as much as possible to create something truly unique. I was very pleased when the damper specialist told me that they had never seen their product being used in this way before. 

I am very interested to see how NTT Comware can use these appliances beyond the designers' expectations, and I can't wait to hear all about it."

Hiroyuki Tanaka (Hiroyuki Tanaka Architects)
About Loftwork
Loftwork Inc. is a global creative firm, which designs websites, services, communication and spaces through the collaboration. We are located in Taiwan, Hong kong, Tokyo and Kyoto . We also operate owned media and space. Digital craft cafe "FabCafe" , and co-working space "MTRL (Material)" , and the online platform "AWRD". We are able to provide a wide variety of creatives with creator communities worldwide. Through the design process, we create good impact to society
About Author